Adapting to the Confluence of Change in Times of 4.0
By Dr. Uday Salunkhe, Group Director, WeSchool | Thursday, 05 Oct 2017, 06:18 IST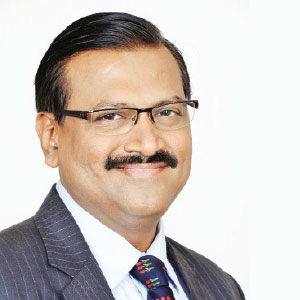 Change has been the new normal for many years. Change has disrupted multiple aspects in the lives of people, societies and nations. Industries also have experienced different cycles over the last two to three decades. In India, the late 80's triggered the opening of the economy and became more interconnected with countries across the globe than ever before. The 'coming of age' is and will have its share of challenges. We really do not have the choice to limit the unintended consequences of change and align only with what we think is the intended positive consequences.
The biggest impact of change on Indian industry is reflected in the ambitiousness of the country and Indian talent increasingly valued for CEO/CXO roles in large global companies. This, in turn, has led to employees, trade partners and citizens, in general, having to contend more with market led competitive forces, be it their earnings, return on savings, job security and so on. In short, the enterprising entities that have been unleashed in the industry have forced most Indians to be competitive and less dependent on 'societal safety nets.'
Keeping this context in mind, B-Schools have their work cut out. The 'relative comfort zone' in past decades is now changing. Slow pace competition which resulted in easier placements generated the often quote 'ROI', by earning an MBA degree. This 'comfort zone' has been strongly destabilised and challenged through the impact on various stakeholders.
"The biggest impact of change on Indian industry is reflected in the ambitiousness of the country and Indian talent increasingly valued for CEO/CXO roles in large global companies."

Let us examine some of these impacts. At an over all level, the industry seems to be less 'committed to investing' in MBA talent development, post high levels of voluntary attrition. This subtle shift has, in turn, influenced the MBA talent to possibly demonstrate lower levels of promise and loyalty to their employers. In fact, fidelity at times is mocked at while others believe that loyalty is to self and possibly to the profession. Commitment to the organization, its senior leaders and reporting manager seems to be less significant. In addition, organizational expectations of freshly inducted talent, at times, tend to be unreasonable. They seem to be looking for 'super- industry ready' talent who can plug and play. After all, the MBA education- or for that matter any profession- is not completed in the B-School. Learning is life long.
Other significant worrisome fault- lines are also emerging. For instance, the salary determined by market forces being offered to Engineers and MBA graduates seem to be simply out of line with 'purchasing power', let alone being indexed to inflation. Often organizations continue to offer salaries relevant to the previous decade, thus expecting employees to deliver outstanding results. The incentive to study, do well and excel is wilting. In fact, the optimism levels of many youngsters, at the beginning of their careers are at best moderately positive.
Keeping the above context in the frame, the challenge is how curriculum design, subject/course design and choices, besides skill building be better embedded in the B School's MBA product of tomorrow, that will be hopefully more useful for industry's next level of growth and reinvention. A slew of changes is needed to make B-School education relevant in the 4.0 era.
Firstly, the MBA course design and deliverables should have a better optimal balance between sharpening the intellectual/cognitive, emotional, physical and spiritual intelligence of the students. This holistic focus has been ignored over the last many years, by placing extra emphasis on 'what to learn' rather than on ' why and how'. The lack of coherence between the development of the 'skill' and 'will' is clearly reflected in the high levels of involuntary attrition, the inability of the student to cope with life challenges (including relationships, money, fame) and so on.
Secondly, the MBA course could adopt best practices from the Medical or Chartered Accountant or Legal professional understudy to a senior professional. The conceptual content from experts can be simplified through interactive classroom sessions, webinars, e-learning, MOOC-based teaching and so on.
The industry has to proactively take a few more positive steps, to adopt, partner, incentivize and encourage the B-Schools to stay relevant in the curriculum. It will fine tune skills of students, teachers and for that matter, corporate managers too. Reverse sabbaticals should be encouraged. The number of options for the student, how to earn an MBA degree or choose a subject should be multiplied. Students should be given options to study and clear subjects, choosing from a range of options, i.e.: research track, industry interning track, entrepreneurial/incubation track, exchange programs and so on.
The trade off between insisting on prior work experience vis---vis freshness of young minds needs to be revisited. B-Schools and other stakeholders who influence the MBA product, possibly should go back to basics and reconstruct, rather than engage in piecemeal, patchwork improvements. There is also a trust deficit amongst various stakeholders about the value of the MBA and this also needs to be addressed, while reinventing the product.

Globalization is bound to bring reforms on campuses in India. Higher education choices will offer new subjects in the coming days. Study approach in management development will improve the employability of students. An innovative educator needs to initiate processes in education at par with global standards. Management Schools need to keep an eye on the effectiveness of changes they implement. Industry stalwarts need to share their knowledge with young students that they may be valued in boardrooms abroad. It is time students pay closer attention to the making informed choices while applying for higher educational courses. It is time to know that employability depends on the skills acquired than placement offers. Aligning education to digitisation is not enough. Harnessing and polishing professional skill set from time to time is the need of the hour.
Dr. Uday Salunkhe
Dr. Uday Salunkhe is the Group Director of Welingkar Institute of Management Development & Research (WeSchool). His 20 years of experience in academia coupled with industry experience of over 11 years has steered WeSchool to great heights by pioneering unique academic programs, partnerships with universities and organisations across the globe.