Choosing the Right Path to your Dreams
By Imroz Khan, Recruitment Specialist, Citicorp | Tuesday, 21 Aug 2018, 10:10 IST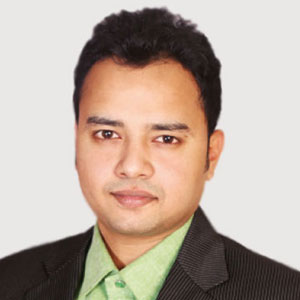 Higher education is something that youth look forward to, not because it is an accomplishment, but also because of the freedom it brings to meet up with the life goals. Many young people develop a negative attitude towards education. Though schools vary, this is likely because there is limited freedom and self-direction in middle and high school. While there may be elective courses students can choose, much of secondary school can feel more like an obligation or chore than a choice. This may be due to the fact that many curriculums are pre-established, many classes are chosen for students and many assignments come with rigid guidelines that do not leave much room for creativity. It is an educational circumstance that most of us push through because we know a high school diploma is important for moving towards the corporate life, which has to be chosen correctly considering one's interest for what to do in life.
Never say we have finished our education; because that would mean we had stopped growing.

Higher education is the reason to an individual's quality of life. Studies show that, compared to high school graduates, college graduates have longer life spans, better access to health care, better dietary and health practices, greater economic stability and security, more prestigious employment and greater job satisfaction, less dependency on government assistance, greater knowledge of government, greater community service and leadership, more volunteer work, more self-confidence, and less criminal activity and incarceration. In addition, college graduates supposedly have greater use of seatbelts, more continuing education, greater Internet access, greater attendance at live performances, greater participation in leisure and artistic activities, more book purchases, and higher voting rates. As an aside, I have to admit that I was amazed at some of these items--not that I found them, but that someone actually researched this stuff and thought some of the items were enviable. Selecting the right education is important because of dependency of future for achieving the life goals, one have to choose a subject of it is interest because later in corporate life a person has to work based upon the subject that is chosen in the higher education.

Parents wants their children to become a doctor, an engineer, an astronaut or anything better, they take admission of their child in the respective category of education so as to push them to move towards desired profession in near future. But, what is important is the interest of a student, potential abilities and their own desire. When new generation was growing up in India, the more accepted and therefore preferred education streams were medicine and engineering. Not much attention was given to where the interest or the competence of the individual lay. There are many cases where students have forcefully taken admission into engineering, medical or law because of their families and relatives- influences and later they realize that they wanted to do something else. Later they realize that their potential area and interest is something else. They can do better in other fields or they realize their passion to be a journalist, a musician, or an actor. I have come across many cases of same kind while taking the interviews in corporate. We have to love what we do and for that, we have to choose the right education where the interest and appropriate knowledge is balanced.

It is the major responsibility of the guardians to identify potential areas and interests of the students where they can discharge most of them and be a perfectionist in their own field. For instance, a few people are weak in mathematics, but they do the best in economics or any other subject of their interest where they can score more, likewise, few of them posses some extra artistic skills in them like music or dance where they can prove their legendary qualities. In India, we are very lucky to have plenty of educational streams that we can select for appropriate career path.
This is perhaps the least-accepted reason, culturally, to pursue higher education. Some hold that the time and financial investment of post-secondary school should only be pursued with practical, concrete career goals in mind. However, pursuing our passions is an extremely important component of a healthy, well-lived life.
Higher education, theoretically, will also enable individuals to expand their knowledge and skills, express their thoughts clearly in speech and in writing, grasp abstract concepts and theories, and increase their understanding of the world and their community. Not all skills are clearly connected to a career or statistics, but they can be equally as important to a well-rounded, fulfilling life.

If you love what you do, you never have to work a day in your life. Not all of us are lucky enough to be working in jobs that we really enjoy.

A fact, granted that parents always want your best. That, however, does not mean that the career that worked best for them, will also work for you. The economy has changed, business has changed, and options have increased, choosing a career should be a personal choice - one that plays to your strengths and to your interests.

After the education, if we talk about choosing the jobs, companies are the most coveted on campus. Just because they work for the majority of the students, does not mean that the companies work for you too. With the role being offered, it is critical to consider whether the culture of the firm fits in with your personal values.

The other important factor when students want to be vice presidents as soon as they start working. Most of the organizations are however moving to flatter hierarchy, where a Sr. manager would have more than 10 years of experience and one would not expect to make a vice president before 15 years. On the other, even if you do get the title of a vice president, you will probably still be doing entry-level work that is suitable for your experience levels because of less experience and capabilities.

It is not enough to just choose the right career path for making the right field work for you, many of us believe that once we get our dream job, we can take it easy but that is what takes time. Making a true success of your career takes continuous learning every time. Studies shows that fresher graduates who took initiative and made the effort to learn more about their jobs and for the tasks, which are assigned to do it in a better way, have always got the perfections towards discharging the assigned duties.

About the author : Imroz Khan

An MBA graduate in HR Management, Imroz Khan is a human resource Specialist with over 5 years of hardcore experience in the recruitment domain. Currently, he works with Citicorp - a global bank that connects millions of people across hundreds of countries and cities.