Need for an Employability Framework in India
By Prof. Gurucharan Singh, Vice President – Corporate Affairs, HR & Training, Cambridge Institute of Technology | Monday, 30 Jul 2018, 11:24 IST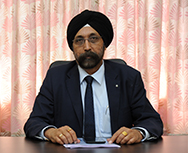 Engineering education in India has come a long way from the first college of engineering started by the British in Madras 1794. The rate at which the number of engineering colleges has grown in the last 15 years is unprecedented and uncontrolled. This quantitative expansion has led to an average decline in the quality of the graduating engineers.
Globalization has increased the pressure on engineering institutions for providing industry ready students. Technology is rapidly changing. The educational system is not changing at the same pace. Hence there is always a skills gap identified by the industry. The challenges that formal education is addressing today are the rapidly changing technologies, quality of education, educational productivity, quality of trainers / faculty and future planning. There is an urgent need to ensure that the education system should work towards meeting and understanding the requirements of the industry.
As such, a transformation is required in the systems and processes being adopted by engineering colleges. The changing market scenario, high attrition rate, mergers and acquisitions, global competition and of course the pace at which businesses now operate and non-availability of quality engineers has made it all the more necessary to adopt a suitable employability framework for Engineering Students in India. A very streamlined process driven system has to be put in place to focus on reducing the gap between the educational institutions and the industry.
Countries like the U.S., UK, Canada, Europe, Australia, Japan and Malaysia have identified specific skills and developed their own employability framework decades ago. India at present does not have a well defined and detailed employability framework. The framework should consist of a combination of Communication skills, Problem solving skills, Decision making skills, Leadership skills, Application skills, Interpersonal skills, Team working skills, Time Management skills, Self-management skills, Lifelong learning skills, entrepreneurial skills and so on along with regular pre and post assessments to ensure that the needs of the industry are catered to.
Technical universities must begin to comprehensively and actively engage with the employability framework, including career building and self-management skills, in order to remain competitive in a diverse market. Further, institutions should take the initiative to develop an individual holistically as a perfect human being imbibed with principles of Discipline, Dedication and Determination and focused in the right direction with a clear vision.
About the Author: Prof. Gurucharan Singh
An expert in the field of corporate interaction, placements and training, Prof. Gurucharan Singh is presently working as Vice President-Corporate Affairs and HR in the Cambridge Group of Institutions, Bangalore.