Using Big Data Analysis in Higher education
By Amit Singh, CEO and Co-founder, OutsiteVR | Monday, 30 Jul 2018, 11:40 IST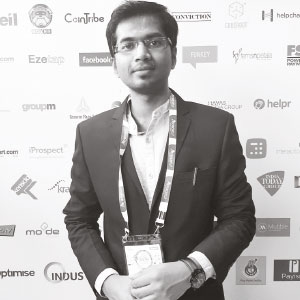 With technological and methodological advancements, we are now capable to make decisions by drawing meaningful insights from analyzing big data. We, humans create data on almost all aspects of our lives, which can be used and analyzed to provide powerful and meaningful insights into our behavior, choices and future actions. It has opened the possibility of extracting meaningful information from every source that produces data. Analyzing big data has already proven its worth in businesses, entertainment, science, technology, and engineering. Well, it has just begun utilizing its full potential in higher education.
Analyzing big data in education system is too complex to find meaningful insights. It is very hard for humans to see patterns, but analyzing big data and tracing patterns can really help to generate deeper insights into students' learning, improve classroom teaching experience and predict best suited career choices. In higher education, we have been drawing meaningful insights from big data but creating meaningful data is the need of the hour.

Analyzing huge chunks of data collected by colleges and institutions provide collective data patterns from which it is tough to predict individual's learning interests and career choices. However, analyzing individual student's academic data at grass root level, i.e; schools will surely help in creating personalized data patterns of students. It helps to trace their skills, interests, creativity, talent, risk taking ability, decision making, behavioral and career choices they have been making from the beginning of the school. It surely improves the success rate and enhances career graph of the students.

In my recent interactions with college students, I found that most of them were confused about their higher studies and no one had set goals for their higher education programs, which suit their skills and interests after completing undergraduate course or board examinations. This problem can be solved by creating and analyzing personalized data patterns of his academic journey so far. By doing so, one can interpret and analyze his own data sets of his interests, skills, creativity, analytical approach, risk taking ability, talent and behavioral choices throughout his academic journey. By integrating Artificial Intelligence, one can easily get meaningful insights for his future career choices, best suited institutions, job preferences and professional growth rate. It is equally helpful and efficient for teachers, educationalists, institutions and policy makers to understand and analyse it to take required actions. For example, predictive analysis of academic data shows more number of students who are design oriented has high creativity skills. Analyzing this data, institutions can come up with more number of seats, prepare and manage resources to provide better opportunities to the students.

Student's academic data with AI integration will be an essential component of future BIG DATA analysis. It keeps a track of all the activities of students in school and higher institutions affecting administration, research, resource allocation and management. Using this analytics, institutions would be more intelligent in their decision making and selection process to offer academic opportunities to the best suited candidates.
In near future, a cloud-based platform would be proposed to create, manage and analyze student's data over their academic journey and implemented it across the globe. It would be the responsibility of institutions to feed data of their students to the platform. And this highly sensitive and meaningful data can be analyzed at various levels and helpful for students, faculty members, institutions, policy makers, and so on. Students would be able to review analytics report and come up with better career choices. Teachers would be using this data to improve learning output of students. Data collection and data mining would be used by institutes to understand meaningful patterns, career choices, behavior, resources allocation, management, and so on.

Following would be some key benefits of using this universal directory which would have big data, analytics and AI in core processing:
- It can improve decision-making and resource management
- Success rate of students can be increased by identifying the risk at earlier stage
- Institutional growth can be enhanced and challenges tackled effectively by the transparent data available
- Innovative models can be developed for transforming the university or college system.
- Decision making would be facilitated
- Usage of social networking could provide assistance in handling complex issues
- Productivity of the institution can be enhanced through effective responses generated due to real time data availability
Following are some key challenges in setting up this universal directory of student's data:
- Standardization in collecting individual data of student in school & institutions
- Conversion of academic reports into digitized and organised data set
- Creating universal cloud based engine to record and track the individual academic & social activities
- Highly secured storage system to retrieve and manage highly sensitive data
- Generate highly accurate career choices, course predictions, and so on
- Setting up International organization to create, manage, analyze this big data

Amit Singh
He is the CEO and Co-founder of OutsiteVR, which is the World's first Virtual reality Experiential Learning Platform for Architectural Community. He completed his Bachelor of Architecture in Indian Institute of Technology, Roorkee.