Why, We Still Find it Tough to Find an 'Angrybird' or 'Facebook' From Indian Campus!
By Arun Gupta, CEO & Founder, MoMagic Technologies Pvt. Ltd. | Thursday, 06 Jul 2017, 05:08 IST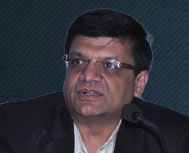 The Indian Higher Education especially the Institutions imparting professional and specialized courses have over the last decade or so, definitely made efforts to become relevant with the changing business dynamics. However as any individual - system, needs consistent review and up-gradation to keep up with the times, so is the case with the Indian education system, and this is indeed a vital attitude gap existing across levels from primary to secondary to professional ones, in the Indian context!
The World University Rankings 2015-2016: top 10, figures the names from US and UK and Switzerland whereas the National University of Singapore , ranks number one from Asia - the first time when the city-Sate has claimed the continent's top spot in the ranking's 12 year history. From India, the name that ranks at 250-300 is IISc followed by IIT Bombay 350-400. However, if we keep the IITs and IIMs out of the purview and talk about the rest of them, commonly referred as Tier II institutions, we can well imagine where the entire segment lies if IISc and IITs rank at 250 and beyond, in the global rankings!
The wide-gap between the quality available and demand is still a concern, though the present Startup fever leading to the environment of abundance has changed a lot on the ground and is surely an important matter of reflection. The risk capacity and desire to experiment is gaining ground at campuses but within safety nets.
With innovation and entrepreneurial fever cutting across the country, and major impetus by the Government to Make in India campaigns, the Indian education and its torchbearers need a reality check by themselves with honest vision and intention along with the faculty and student force. There have been research and white papers on the subject and initiatives by Government and associations such as NASSCOM, CII and FICCI hence no point dwelling on the same. The question is that when so much of emphasis and initiatives-events are being launched and branded wide across, why still the question of quality looms across various discussion platforms and conferences?
As an Indian industry veteran and entrepreneur with close interactions with the education set up, the one key area that holds the key is � the attitude and approach at the top of the pyramid! The shift in attitude is very essential from being successful to that of being qualitatively competitive, globally.