Emphasising on the Employer Requirements based on Industry Standards
By Professor Seamus Cowman,Professor Sameer Otoom and Cameron Mizra, Head, President and Higher Education Council, Royal College of Surgeons, Ireland-Bahrain | Wednesday, 31 Aug 2016, 05:32 IST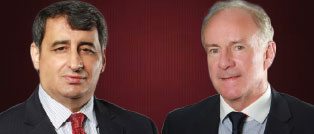 The publication of this first report from the Higher Education Council (HEC) (dated June 2015) on the industry specially puts the spotlight on the employability of fresh employees. Improved graduate skills will encourage universities to take stock on the situation and reflect on their mission in meeting national needs. From a policy perspective, this report builds on employer driven data such as the recent E&Y report of 2015, which compares the skills and attributes of graduates across the GCC. Whilst Bahrain does lead the other GCC countries in terms of local talent by possessing commitment and updated qualifications, the overall picture of an employer in Bahrain is portrayed as one who is struggling to find graduates with a skill set that will be able to contribute and add value to their company.

In any university, there is a common acceptance that a progressive educational institution is one which produces 'readily employable' graduates, who can synchronously engage their chosen career with the needs of the employer. In Bahrain, the National Higher Education Strategy of 2014 concentrated on guiding themes related to enhancement of skills for the future, strategic access, technology in education and entrepreneurship. Such values can be a driving force for curriculum reform because they fit comfortably within the complexity of the health-care industry which sets competent health professionals as benchmark of the education system. RCSI Bahrain, drawing on a secure academic reputation built over the last 230 years by RCSI Dublin, is well positioned in addressing the challenges, with academic accreditation and validation from Ireland and Bahrain. The RCSI medical school has achieved the standards of World Federation of Medical Education and the School of Nursing and Midwifery is placed on the EMRO list of approved schools.

The Higher Education report has correctly identified a shortage of skills as a major challenge to the health sector. This is a global phenomenon and to address this issue in Bahrain will require further investment as the health care sector is expected to grow exponentially for the foreseeable future. Across the world, the greatest demand in health care is for specialists in centres of excellence. But, unfortunately in Bahrain, the dearth in specialist skills is hindering the growth of health services from transcending new directions. Such endemic problems in individual countries can only be alleviated through collaborative working relationships between health ministries, employers and universities.

In some countries, expatriate nurses may be as high as 80 percent of the nursing workforce. The way forward lies in the gulf region which is experiencing indigenous growth through the education of nationals to achieve international standards. Notably at RCSI, Bahrain, there has been a 150 percent increase in the number of young Bahrainis entering nursing during the last ten years. Specialized education and training models has been bench marked by incorporating international standards for the development of a post graduate surgical training programme and a post graduate specialist nursing programme too. Educational reform and curriculum review must be a constant in a vibrant university sector. The focus must not only be placed on skill-development, but also diverted to how they are applied. This aspect requires an increase in accompanying student assessment to the reality of the workplace. The framework of applied learning and curriculum improvement is dependent on the close collaboration between various stakeholders. The current starting point for Bahrain is pretty low because the global competitiveness index ranks Bahrain 121 globally for university and industry collaboration in 2014.

The value of entrepreneurial education is clearly evident because it promotes creativity, innovation, and encourages the ability to organize projects. Entrepreneurship and innovation is productive when it is underpinned by an inter-disciplinary approach. RCSI Bahrain has initiated educational developments which engage students in inter-professional learning by bringing medical and nursing students together for learning and team work as a preparation for the reality of work environment. This has been extended to an international stage with selected medical and nursing students availing an international opportunity to work together on charity projects in different places such as Lesotho, Vietnam and Chennai.
entral to creating a vibrant university sector is autonomy. Regulatory systems and processes must be sophisticated enough to attain national standards. But, they must be sufficiently empowering for the numerous universities to facilitate rapid developments. Autonomy for a university is an honour to be earned through the pursuit of excellence by developing a reputation. This can be done by incorporating models of governance, accountability and transparency. The health sector in Bahrain is a regular employer of Bahraini University graduates. This not only meets national need, but also contributes to citizenship, welfare and the subsequent economic growth.

Authors
Professor Seamus Cowman PhD, MSc, Head of School of Nursing & Midwifery Royal College of Surgeons in Ireland � Bahrain
Mr. Cameron Mizra, Higher Education Council
Professor Sameer Otoom, President, Royal College of Surgeons in Ireland-Bahrain