Enjoy Being a Boss
By Shubham Badal, Founder and CEO, CybrHome | Thursday, 06 Jul 2017, 05:08 IST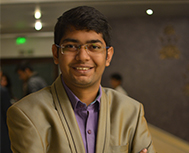 Entrepreneurship is the innovation of new ideas and business processes. The attitude to take up risks and the caliber to exploit the opportunities makes up a perfect entrepreneur. Entrepreneurship covers design, launch and running of a new business. A true entrepreneur builds products and services that can make human life better, create employment opportunities in the country and thrives for the improvement of the economy.
To start up a business, a good idea is the basic requirement which can conceive the first customer. However, sometimes finding the same becomes strenuous accompanied with the perverse to transform those into a business, some can easily be turned into businesses and the best ideas attract the customers and hence it is all related and cannot be generalized. Risk is an inevitable part of starting and growing a business. A methodology including innovation, continuous process improvement (CPI), and use of technology and research study on the market strategy will help in the survival of the newly established firm. Students are better for some specific kind of ideas. They excel at working on creative ideas like consumer internet products, mobile applications, productivity apps or games. Whereas an industry professional will do better in B2B space like Enterprise software, business apps or demanding sectors like energy or governance.
Nowadays it is easy to start up a company in India as it is supported with the provision of growing market, cloud, mobile technology and the cooperation from the government along with the availability of funds in the ecosystem. New business owners have numerous goals when they are starting out, including rapid growth and recognition for their fledgling venture. There is no specific recipe for instant results and nothing is guaranteed.
We always do enjoy being a boss. When we just start up, this might look true but we will realize soon that while running a company the customer is the boss. Customer's perceptions of your business can really make or break a business. Deliver quality experiences and products, and they will quickly sing your praises on social media; mess it up, and they will tell the world even faster. Fast growth depends on making your current and potential customers happy with their experience bringing new and innovative products and services to market more quickly for developing and nurturing long-term customer relationships."
A startup's ability to invest in itself accelerates growth. In those early years, it's critical to make sure that we will redirect revenues back into the company. It's vital to invest early and heavily in order to grow quickly. Rather than working as an employee, an entrepreneur runs a small business and assumes all the risk and reward of a given business venture, idea, or good or service offered for sale. (As told to Amrutha Ram)
About the Author : Shubham Badal
Shubham Badal is a final B.Tech student at National Institute of Technology, Surathkal and Founder of CybrHome, a startup that makes searching and discovering top content of the internet easier than ever.