Higher Education - An Era of "Self-Financed Universities"
By A.S. Kolaskar, Vice Chancellor, The Neotia University | Monday, 25 Sep 2017, 04:36 IST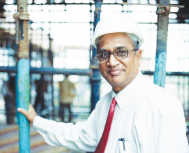 Prakash Javadekar, the new Human Resources Minister, has announced that the Government of India will soon announce a new education policy in which student – teacher interaction will be given priority. Though Indian "Gurukul" system is not viable in today's world, the importance of providing holistic education to the techno-savvy young generation should not be underestimated. Today, most Indian universities are merely providing subject information and thus creating unemployable graduates as described in many survey reports published in recent years. As a consequence, university campuses have become hot beds of politics, student unrest, strikes, gheraos and education has been relegated to second place. This downward spiral needs to be arrested and reversed.
In USA, private universities, particularly Ivy League Universities, have brought about major changes in higher education system where research, teaching, interaction with industry, cultural and sports activities are integral components of any stream of study, helping students to achieve excellence in their chosen walk of life. These universities are thus producing Nobel laureates, Olympic gold medallists, successful wealth generating industrialists, world class artists, and social thinkers.
In recent years, the various state governments of India have established several self-financed universities, whose numbers are now comparable to state and central government supported universities and institutions. Some self-financed universities are making use of the limited freedom available to them and are working very hard to provide job oriented, professional courses relevant to the 21st century, while also attempting balanced development of students.
Parents, justifiably try to send their wards to established universities. However, the standard of education at many of these established universities is slipping and the atmosphere is becoming unsuitable for learning. Today, several central universities and state university campuses are facing major problems and find it difficult to maintain their sanctity as 'temples of education'.
The self-financed universities, working to become viable and establish their own brand are making innovations in the education system by using newer technologies, up-to-date syllabus, better infrastructure, better teachers and pedagogy, better interaction with industry and international universities. Consequently, students graduating from these Universities are better equipped not only for immediate employment, but to survive and grow in today's highly competitive and unified global world.
Parents and critics should realize that Stanford, Harvard, MIT and other Ivy League Universities in USA have not grown to the present stature in their first 5 - 10 years' life, but after a long period by consistently following policies of excellence in teaching, research and education. Many self-financed universities will emerge as centre of excellence in the world, receive high global rankings and become world class Universities. Our governments, state and central as well as public at large need to change their beliefs, mind-set and judge these self-financed Universities by their implicit and explicit potentials and play an active role in their integration into the main stream of education.
Let us hope that the new higher education policy will be in this direction of making Indian higher education free from multiple regulators, so that many Indian universities can attract students and faculty from all over the world making them world class.