Tips to deal with Exam Stress
By Charushilla Narula Bajpai, Founder & Key Mentor, University Connection | Monday, 30 Jul 2018, 11:35 IST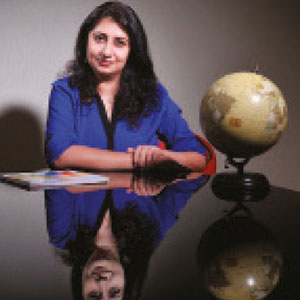 Examination, testing, striving for excellence, struggling to pass and grade-racing, creating recognisable milestones - whatever are the goals, stress and anxiety are often accompanied with examinations. Human beings are easily pressured when it is their performance that is under the scanner. However, this pressure is often self-created and if we learn some ways and means to go through this period, we will not only perform better but will also be able to grow as a person. I often advise students on ways and means to max their potential and this ABC to dealing with examination stress is part of it.
A is for Apple, signifying energy. Often poor nutrition and skipping meals result in unnecessary fatigue, lethargy, and complete lack of concentration, thereby making exam time more strenuous than it already is. Students must focus on eating a balanced diet comprising fresh fruits and vegetables in order to stay high on energy and super productive. This accompanied with a healthy sleeping pattern can do wonders for your exam. You may not know, but if you are fresh in mind and body, that tough chapter you think you remember nothing from, will all come back to you when you are writing the exam.
B is for Better Preparation. Leaving exam prep to last minute schedules is a shore shot recipe for stress. Moreover, the days and months leading up to the exam are indeed the most significant in terms of staying planned and organised through neat timetables and a routine. If managed effectively, sticking to this kind of a schedule can easily be seen as a preparation not just for an exam but also for life in general. People, whether in a corporate structure or in their own businesses, have to meet deadlines and show results. Exams are a precursor to what can be expected in later life, therefore getting used to planning, preparation, practice, and execution early on, is an effective means to be ready for life.
C is for Cancelling Distractions. The best of performers, artists, musicians, mountaineers, competitive exam givers, deep-sea divers, or any other will tell you that distractions only spell disaster. The human mind can process information and knowledge, especially for an exam, only when it is zoned in or focused towards that one task for a considerable length of time. During this focused time period, any distractions, whether the reminder of your favourite television show or the temptation to join your friends for an evening getaway or that new game on your X-box, or the constant uneasiness that makes you check your Snapchat story every few minutes, or even that best friend who cannot seem to live without talking to you every hour – must be dealt with and essentially removed from your performance zone. At another time, I will also share the XYZ of peak performance. Until then, have a happy exam day!
Charushilla Narula Bajpai
Charushilla Narula Bajpai is a leading Career Counselor and Edu Speaker. She is the Founder Director & Key Mentor of University Connection which has been established with the single-minded focus of providing unbiased facilitation through services linked with higher education, career management and its various dimensions.