Ed-Tech: Bridging Learning Gaps in the Education Industry
By Aditya Malik, CEO, Talentedge | Wednesday, 16 Aug 2017, 09:29 IST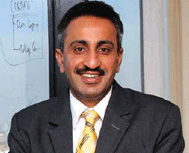 The Indian economy has seen significant changes in the past few years, with exponential growth across industrial that contribute to the GDP. With this fast-paced growth arises the need for talent that would ensure continued growth.

There is a constant need for working professionals across industries to ensure that they have required skills sets to stay relevant and contribute to the growth of the organisation, and in turn the industry that they are a part of. Working professionals are always on a look out for specialised courses that are practical and allows effective application to further define their future course of action.

Excellence in teaching methodology enabled by contextual learning material and faculty who are subject matter experts instils professional confidence to achieve success at their work place.

The reason behind the gap

Indian education industry is one of the largest and most important in the global system. The Education sector has time again proven to be a medium of global developments, improvise financial outlays, potentially transforming the nationin to an anchorage of knowledge.

In present times, several intimidating factors curb class room learning for working individuals. Scheduled classroom timings, fast-paced and demanding work environment restrict the freedom of choosing and planning a course of action that would otherwise enable and fast track their careers. That can boost digital education in IndiaTechnology is the key driver to offer experiential learning to students. Several industry experts, global leaders and ed-tech companies are striving to create platforms that will enable seamless learning experience, including affordability, accessibility, and quality. Entrepreneurs and investors also see this as an opportunity to substitute traditional mediums with new technology that best serves today's students.

"There is a global rise in the number of collaborative partnerships between Indian and international academicians and institutes to enable a sound ecosystem"

The new era of Ed-tech learning

In India, there is a sudden disruption in the education system that is all set to impact globalisation and growth within industries in a meaning ful way. Although the advent of digital education dates back to 3 years ago the impact has been tremendous. There is a changing mind-set to move away from brick and mortar learning and move towards elearning. Direct-to-Device technology empowers students to get superior education, anytime and anywhere. Technology led reach and easy access will bring about a socio-economic difference in the lives of Indian learners.

Digital education in India comes as a path breaker, making quality education affordable to the masses. With nearly a billion people on mobile phones and over 200 million mobiles connected to the internet, there has been a considerable rise in digital learning. There is a global rise in the number of collaborative partnerships between Indian and international academicians and institutes to enable a sound ecosystem that can boost digital education in India. Digital learning has carved a new path to relieve India youth of the dilemma of whether to pursue a specialisation or focuson landing a job that relies on their current skill sets. Live and interactive digital learning imparts experiential learning, international exposure in terms of syllabus and practical, specialized learning without having to quit their jobs.

Leading Ed-Tech firms use technology to seamlessly engage with students and achieve desired results through well-planned teaching methods. They offer programmes with world leading institutions and give students a chance to explore their potential to the fullest by creating apps that enables them to get expert advice from industry stalwarts and subject matter experts.This new methodology of teaching gives them an opportunityto progress faster and further towards a successful career.

Management courses offered online are up to date in term sof collaborative ventures between international industry leaders and Indian Ed-tech companies. Certificate courses in are as such as Strategic Asset Management, Financial Management, Digital Marketing, International Corporate Relations, etc. are popular as they are relevant, have a specific course and syllabus structure, generate high-paying jobs and have a relatively shorter period.