Enhancing Employability Bridging Skill Gap
By Suman Reddy, Managing Director, Pegasystems India | Monday, 30 Jul 2018, 12:08 IST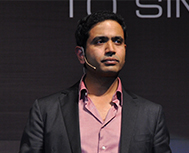 NASSCOM reports that the percentage of employability of the million students graduating each year is estimated to be four percent while other reports raise the claim to 10 percent. From this number, employability among the graduates is estimated at 50,000 to 75,000 while the industry requirement is approximately 200,000 new employees. Therefore roughly 75 percent to 80 percent of students, who are graduating each year, are not job ready. In dealing with this problem, there is no generic solution.
Educational institute are divided into multiple tiers based on their rankings. Each of these tiers faces their own set of problems and as a result each tier needs to tackle their problems differently. The Tier One colleges are characterized by students with tremendous talents who are academically brilliant and come with high aptitudes and a thorough education. Students from such institutes may lack understanding of the way businesses operate.
Here, industries could offer the students preparatory courses in their third or fourth year, providing the students an understanding of business. The tier- II colleges have put in a lot of effort to improve the quality of their programs and facilities, thus improving their positioning. Students here have high aptitudes and perform well consistently. They are able to learn technologies quickly and easily adapt to their work. However, the students have a lot of theoretical background, but little experience in practical implementation. This is the gap that the companies should focus on. Compromises in the quality of the intake of both faculty and students are a major feature of tier - III colleges. Companies that recruit from these colleges are forced to train the students not only in the basic aspects of the subject but also in industry experience, hands-on knowledge and the technical know-how.
Companies like Pegasystems provides train-the- trainer programmes for partner organizations. It even creates academies within the partner organizations and provides certified technology trainers. Currently there are many pilot program is being implemented in engineering colleges under state universities. There, students are being trained in latest technologies and after graduating organizations can hire from these colleges. They would be hiring industry ready graduates who are equipped with all the required skills.
About the Author: Suman Reddy
With over 20 years of experience in the IT Industry, he is the Managing Director of Pegasystems India, which has a headcount of 1100+ developers across Hyderabad and Bengaluru.