Foreign Academic, Consultancy and Training: Guiding Ambitions and Building Careers
By Sunil Shah, CEO, FACT | Thursday, 08 Dec 2016, 11:40 IST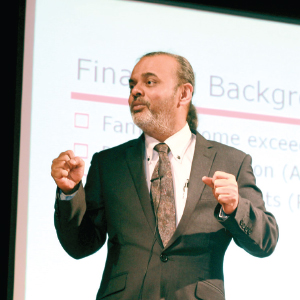 We belong to the Society, where the status of a person is decided on the basis of his/ her Education level. Education certainly is an asset, valued in the world. On the concrete base of Education, we have been able to create our mark in this Globalization and Internet Revolution. The significant increase of the Indian students opting for U.S. education is an indication of the growing confidence of Indian students in the American education and more important, its relevance in the current era of Globalization. Global compatibility is what we need to survive and grow. FACT (Foreign Academic, Consultancy and Training), can support you at this stage.
In late 1990s, if it was difficult to get visas to go abroad, it was even more difficult to get admissions to the ranked foreign universities. FACT realized the aspirations of the students to go abroad for higher education and dedicated themselves to offer opportunities in quality foreign education with much ease. FACT, founded by Sunil Shah in 1998, a rank holder Chartered Accountant, started guiding ambitions and building careers of the deserving students. Today, FACT is a specialized, scholarship focused the U.S. Education Consultancy company that operates from Mumbai, Pune, Nashik, Aurangabad, Delhi, Gurgaon and the UAE. Along with counseling, they offer training for entrance tests such as SAT, GRE, TOEFL and IELTS.
Shah says, "We believe in imparting knowledge not in a practical way, but rather in an emotional way, which could help students connect more with us. The approach of providing the services is emotional and we believe it is the empathy that connects people together." Every year, FACT guides more than 1000 students towards top universities in the USA and has trained and guided over 18000 students over the past two decades. Students are not only delighted to receive training and career guidance here, but remain grateful for the humble humanity factor offered by the counselors. Nandita, an alumnus of FACT shares, "I still vividly remember that seminar in which against all odds a person shows the U.S. pathway that too with scholarship. The end result was I had six admits in hand with four scholarships after completing the program." She is pursuing a BS in Pre-medicine from Mississippi State University at present. Like Nandita there are thousands of students and alumni who express their gratitude for the institute because they have been guided in the right direction. Another alumnus Gauri rephrased the acronym for FACT as 'Fantastic Administration & (very) Cooperative Team.'
With more and more students pouring into the institute, Shah takes pride in their methodology of learning that is imparted under his guidance. He says, "We focus on the qualitative aspects of admission process beginning with counseling sessions for both students and parents to decide with the universities, this is the crucial stage as the molding of a proper mindset starts here." FACT focuses on one-on-one basis and identifies the strength and weakness of a student. The program is designed in such a way that it not only enhances the strengths, but hand holds the weaknesses to bring the students up front.
FACT has dealt with every kind of career verticals. Known to be specialists for USA Education, they offer guidance in Bachelors, Masters and Ph.D for all streams like, Engineering, Medicine, Dentistry, Physical Therapy,Pharmacy, Arts, Management, Commerce, Pure Sciences, Hotel Management and many more.
"There are more than 3500 universities in the USA,the first 200 ones are intense research universities and the top 20 are the ivy leagues. With a global change over the years, people have become more aware of the best universities. The popular universities tend to grab students' attention through marketing," opines Shah. When a student approaches FACT, they offer university options of those who have research or any other employment opportunities once they complete their graduation. This is considered as one of the key factors of how FACT keeps up to their word to provide education with bright employment opportunities to the students.
Having students in reputed universities around the world such as CMU, Purdue University, UIUC, UPenn and many more with scholarships. FACT Family has become an ideal home for the students abroad to gain emotional support. FACT trains their students with interactive learning sessions and manages through Moodle and SuiteCRM to make their level of knowledge and skills match to what is required there. With 80 percent of scholarship record and 95 percent of visa success rate, FACT is looking forward to geographical expansion in Goa and Bangalore and places like Singapore and around the globe.
As Shah reckons his days of establishing the institute, he points out that youth are the spirits, which can change anything. Since he became one of the factors of a change, he expresses his desire that students from his institute become agents of change around the globe making the world a better place to live.