Have We Lost our Indian Culture of Education?
By Prof. Indu Rao, Associate Professor, Nirma University | Thursday, 06 Jul 2017, 05:07 IST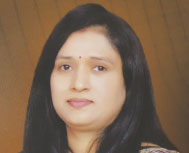 Higher Education today is in a state of flux. The Indian culture has traditionally viewed edu­cation and related institutions as temples of learning. Post-independence, we modernized our schools and colleges, first through public and govern­ment funding, and then later through private funding. By the end of twentieth century, there were a large number of both public and private institutions. These institutions were set up to meet the growing demand of education from the ever increasing student population in India. However, in the pursuit of providing education for all, only very few institu­tions have sustained both quality and the values that were hallmark of the traditional Indian education.
While we began with a few pockets of excellence like our IITs and IIMs, the higher education system quickly turned into a large web of complex systems and institu­tions grappling with self-generated widespread issues to solve. The IIMs began with borrowed cases from the Har­vard Business School and the case method of teaching. The assumption was that these cases captured the rise of the large companies in the West so that the management prac­tices will provide good material for teaching the students.
It was believed that businesses can prosper through the giant companies, wealth can thus be created for nations and there­fore it will lead to prosperity for all. And, that our students can learn through this kind of B-school and contribute to the nation. In a way, the perceived prosperity of the western nations gave credibility to the western higher education, not the oth­er way around, as many believe. Subsequently, there was high emphasis on research in the West and professors who engaged in research were highly paid, much above the average salaries of their countries. This followed from the belief that fundamentally strong higher education was related to prosperity of the nation. However, the 2008 economic recession shook the very premises of the higher education system. There was confusion both in the West and in the other countries where the western education systems were being copied.
In the past 5-7 years, it has been found that countries like India, China and Brazil and their companies, small, medium and large; are doing well economically as com­pared to the so-called developed countries. This led to the world attention to the fact that India has a better education system. Many world leaders point out that Indian students are good in Maths and Science. Additionally, while researchers in the West did not pay attention to the Indian companies and practices for scholarly contributions in their reputed journals, they are rethinking now. There are more call for papers for research about the best practices from the Indian businesses and those of other BRIC nations.
But somewhere, we may be making a mistake again. On one hand, our IIMs have not paid attention to the rising com­panies in India to make available enough material for aca­demic leadership, on the other; our Indian businesses have not grown big as a result of the education from our premium business schools. This puts a question mark on the relevance and credibility of those who have been the torch bearers of the higher education in India.
We have been recruiting teachers in premium schools as well as in government and affiliated private institutions based on pre-set criteria. The criterion has emphasis on grades/ marks and research papers but not on industry exposure and experience. Both, the system of giving marks as well as that of getting research published has flaws and is not free of bias. The race for so-called A journal papers and the related monetary incentives attached to it has already corrupted the research and publication cycle in the West such that there is no escape and the western academicians are already puzzled about what to do. Interestingly, in India, we are now trying to follow the western system of publication which has already lost steam over there.
Our students are concerned only about placements, fac­ulty is concerned about salaries, projects and promotion, trustees focus on business and profitability for the institu­tions, and the government has its priority for survival. Insti­tutional leaders are trying to find faculty who fulfil the API score requirements. The API requires that a faculty is good in teaching, research and in performing institutional duties, all combined. Where are such people? This leaves room for hon­est and credible discretion for recruitment on part of decision makers. But where are the leaders with such values? Once recruited, the faculty and leaders alike are engaged in secur­ing their positions of power by using all means.
Where are the values and beliefs about learning, sharing and giving which had created our temples of learning and placed our gurus on a pedestal for their selfless commitment to disciples? There are many interventions and solutions being sought, but none can give or sustain results if it is not embed­ded in the values and beliefs, and rooted in the culture. Where has our culture of education gone?