Technology Boom in Today's Education Revolution
By Dr.C.Nandini, Vice Principal & HOD of CSE Department, Dayananda Sagar Academy of Technology & Management | Wednesday, 23 Aug 2017, 06:17 IST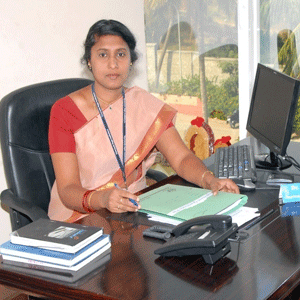 Education is an important medium of acquiring skills and knowledge. Technological innovation has long been the key to growth and prosperity, and engineering has been an important driver of this innovation. Incorporating new technologies and ideas in academics leads to a revolution in the education system.
We have to motivate students to come out with innovative idea and projects. Hence Project-based learning is a student-centered pedagogy that involves a dynamic approach in which students acquire a deeper knowledge through the active exploration of real-world challenges and problems. By involving students in Research realm for instance women safety projects like an anti-rape band is carried out, which can be easily attachable and detachable to the body.
During aggravated situation, it intimates to a nearby police station and to the parents with the location details.
In Discussion with Jahnavi, the Research Scholar aims to come out with breakthrough projects in cloud security system using Visual cryptography Techniques. Since securing the data over the network and cloud plays a significant role. Other realistic projects like Cloud based Health monitoring system with IoT and Bigdata medical applications to solve medical problems are carried out.
Apart from theoretical concepts, students should be exposed to practical and research orientation programs that favor the society in fulfilling the needs.
About the author: Dr.C.Nandini
She started her career as Professor & HOD in Dayananda Sagar Academy of Technology & management in the year 2010. She has been teaching for 24 years with 17 years of Research experience. Her areas of interest are Image Processing, Pattern Recognition, Crypto Biometrics. she is Awarded for Research excellence in Indo-American Education Summit 2016 for Education Excellence Awards, With 35 Publications in International Journals and 20 papers presented in National conferences across the Globe and awarded Excellent paper for the presentation in the International Conference held in Kualalumpur, Malaysia, July 2016.