University Ranking: Commercialization or Necessity? Indian Perspectives.
By Balakrishna Shetty, Vice Chancellor, Sri Siddhartha University | Monday, 01 May 2017, 05:29 IST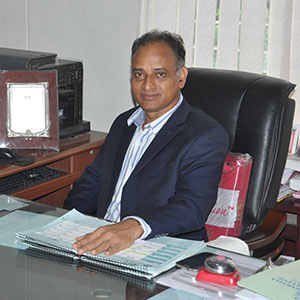 University ranking has become the most essential indicator for higher education globally. There is lot of hue and cry that Indian Universities are not in the top and we should strive hard to get the ranking. However each ranking system has its own methodology of institutional evaluation, like academic performances (research, publication, citations, and grants), winners (Nobel Prizes, Fields Medals in mathematics etc.), Internationalization and employability of students in International Organizations.
According to statistics from Organization for Economic Cooperation and development (OECD), number of international students rose from 0.8 million in 1975 to 3.7 million in 2009 and still is increasing by about 12% each year. This statement demonstrates an extensive tendency of studying overseas, and ranking systems turn out to be one of the avenues to receive the information of institutions particularly their positions.
When it comes to this issue, inevitably, ranking systems and such organizations may become commercial. Commercialization of Academics, Publications, Citation, and Research are also slowly creeping into the higher education systems and scientific media.
Western media and scientific publications are also trying their best to suppress Indian Academia. In 1992, I did an extensive research on Typhoid fever, submitted to a Scopus Journal (American Journal of Radiology), which rejected it out right. Later, when I went to USA, for Fellowship in Pediatric radiology, I submitted the same research paper along with my American colleague as coauthor. Interestingly, it was accepted for publication. Many Indian faculties must be having such experiences and aware of The Real Criteria for publications. Often we need to pay for the publication, which in turn means that Indian Universities, Faculty and Students are financing these journals!!
Before worrying about our University Rankings reports ( by western media), let us look into our Social Ranking reports:
Index

India Rank

Human Development Report

(Latest ranking list by UNDP report 2014, criteria's are Living standards, Poverty, Health and Education. Our ranking is much below war trodden countries like Palestine (107), Iraq (120) and slightly above failed states like Afghanistan).

135

Literacy

61

177

Countries with Extreme Poverty and Hunger

Top 15

Child Nutrition ( malnourished children under 5 years)

43.5

1

Infant Mortality

46

50

Maternal Mortality

200

52
I feel, India should conceptualize the University platform to provide Social Justice. University and Society are two sides of the same coin and we should focus on overall social development. When I suggested this during couple of Higher Education meetings I was told that India cannot lag behind Science and Technology. Interestingly please look into our Ranking in the following:
| | |
| --- | --- |
| Rocket Science | Top 5 |
| Atom Bomb Technology | Top 5 |
| Missile Science | Top 10 |
| Defense Technology | Top 10 |
| No of Mobile Users | 2nd |
| Availability of Modern Health Care Technology (of course not for poor) | Top 10 |
| Economy | Top 5 |
| Foreign reserves/ Gold | Top 10 |
| Food Grains and Fruits Production | Top 5 |
When millions of our Children are going to bed without a square meal a day, when thousands of pregnant woman are not able to get safe water and good nutrition, should we concentrate on global parameters (as dictated by the western authorities), or should we concentrate on Social Parameters?
We advice our children to work, learn and know; do not focus on rank. Should we ask the Universities and the existing students (15-20%), to concentrate on publications/ citations and ranking or should we try to give College level Education, so that there are more students (95%) involved in learning and research?
We are 123 Crore people and 1/6th of the planet. We should have our own criteria and stop copying the western criteria for everything. The best Universities in our country are those, which implement (3 major Criteria):
Best literacy rate: Each University should adopt at least 50-100 rural Schools without adequate number of teachers. (In fact we should request the accreditation committees to rank the Village Schools not Universities!!). University Students should teach at least 2-4 weeks in these Schools, which should be mandatory before awarding them the degrees.
Enough Nutrition for Women and Children: by Government-University-Society interaction and proper channelization of our food resources. As you know we are world leaders in food grain production!!
Best technology: Where the farmers use best of the technologies to increase the production, this can be taken up the Technology Universities.
Overall Social development, Community based Research and Autonomy to students to do independent research will result in original research papers than the Cut, Copy, Paste syndrome, observed in our research work. We should take up research on common problems in our community for Health and empowerment of our citizens. If it all any organization interested in ranking, let them rank our village schools and hospitals not our Universities. 700 and more university faculty should cite our own publications, which will automatically improve our ranking. India is1/6th of the globe and let us not worry of global ranking and certifications, till we do substantially well in the 3 major criteria's listed above.