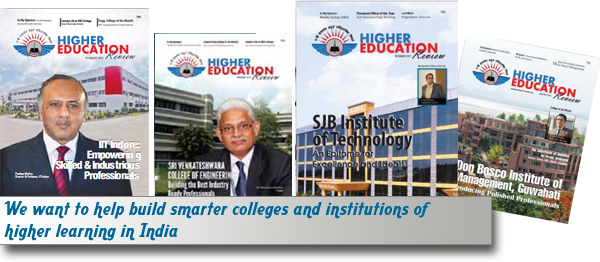 About Higher Education Review
Higher Education Review monthly magazine is a platform where College leaders, College Professors, Industry leaders, HR leaders, Expert Advisors, for admissions and Accomplished alumni can share their experiences and learn from each other.
We believe that there is a gap for a platform among the students, colleges and industry to interconnect with each other and share their views on the equipping the fresh talent to be industry ready, new methods to be used in educational institutions, right information about the educational institutes and job trends. Moreover, today students are in search for a one-stop resource that keeps track of the education system and help them understand how to gear up for the jobs and placements, and many more.
Published from Bangalore, India, Higher Education Review is an excellent platform for the students opting for higher education, fresh graduates looking for job opportunities, college directors and top professors to share their insights on what are the best strategies for providing top notch business and engineering education in India.
Contact Us:




Editorial:


Sarath Syam
Phone: +91- 80 - 46441103 / +91- 80 - 46441136
Email : editor@thehighereducationreview.com




Advertising:




Monisha. R
Phone: +91 80 46441122
Email : monisha@thehighereducationreview.com


Subscription:


Phone: +91 80 46441190
Email: subscription@thehighereducationreview.com


Survey:




Phone : +91- 80 - 46441103
Email: survey@thehighereducationreview.com


Head Office:




BIZ PRINT MEDIA TECHNOLOGIES PVT.LTD
The Higher Education Review
# 124,2nd floor,South Block,Surya Chambers
Old Airport Main Road, Murugeshpalya
Bangalore-560017.India
Tel: +80 46441103