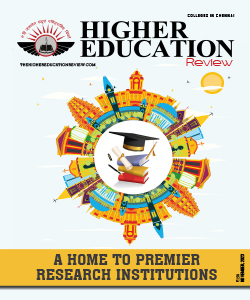 Top 10 Promising Colleges From Chennai – 2023
Empowering Minds, Shaping Futures

Chennai, a bustling city on the southeastern coast of India, hosts a diverse array of colleges that contribute significantly to the educational landscape. From prestigious institutions like IITs to renowned arts and science colleges, the city offers a rich tapestry of academic opportunities. Chennai's colleges represent a harmonious blend of tradition and modernity, catering to a wide range of educational aspirations. The city's commitment to academic excellence ensures that students receive a well-rounded education, making Chennai a hub for aspiring minds.

Elevating Education, Enriching Lives

Chennai, a dynamic city on the southeastern coast of India, boasts a diverse array of colleges that collectively contribute to the city's vibrant educational ecosystem. These institutions cater to a broad spectrum of academic disciplines, fostering an environment conducive to learning and growth. One notable sector is engineering education, with several colleges offering programs in various disciplines. These institutions play a pivotal role in shaping the next generation of engineers, emphasizing both theoretical knowledge and practical skills. In the field of arts and science, Chennai accommodates colleges that provide a comprehensive education in literature, mathematics, and the sciences. Chennai's medical colleges are instrumental in training healthcare professionals, ensuring a steady supply of skilled doctors and nurses. The emphasis on practical training and clinical exposure in these institutions prepares students for the challenges of the healthcare industry. The city's colleges also recognize the importance of holistic development, promoting extracurricular activities and cultural events. Students have opportunities to participate in sports, arts, and other activities, fostering a well-rounded educational experience. The diversity of programs, the commitment to excellence, and the emphasis on holistic development make these institutions integral to the educational landscape of Chennai.

This issue of Higher Education Review talks about some of the professionally managed colleges in the country, which has been nurtured with best technical and professional infrastructure and assistance from efficient and skilled faculties ensuring delivery of quality higher education and research. This issue spotlights a list of 'Top 10 Promising Colleges from Chennai- 2023' the list has been crafted by a team of Industry veterans, CEOs, VCs and the Higher Education Review editorial team.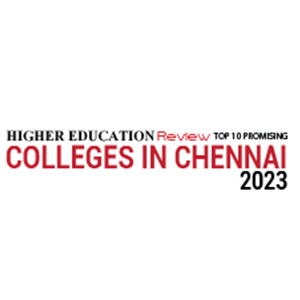 Nominate College/Institute
×
Nominate College/Institute
Our subscribers play a decisive role in finalization of our annual list of "Top 10 Promising Colleges From Chennai – 2023" by nominating those which have served them with excellence and are praiseworthy. If you feel there is a College/Institute that deserves to be on our annual list, do write to us about them mentioning their value proposition.
Data not inserted