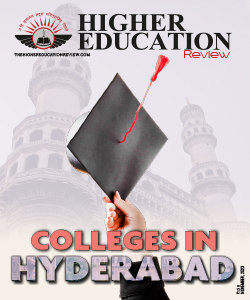 Top 10 Promising Colleges From Hyderabad – 2023
Nurturing Minds & Fostering Excellence

Hyderabad, the capital city of the Indian state of Telangana, is renowned for its rich history, vibrant culture, and a burgeoning education hub. The city boasts a multitude of colleges and universities that cater to diverse fields of study, making it a prominent destination for students seeking higher education. As the city continues to evolve and grow, its institutions of higher learning are likely to remain at the forefront of academic excellence and innovation.

Elevate Your Learning Experience: Hyderabad's Best Colleges

Hyderabad is home to several esteemed universities and colleges, both public and private, offering a wide range of academic programs. They offer programs in various disciplines, including arts, science, engineering, and management. Some of the institutes have emphasis on research and postgraduate programs. These institutions have gained recognition for its contributions to various academic fields and are consistently ranked among the top universities in India. Hyderabad is also known for its technological and engineering colleges. These institutions are at the forefront of research and innovation, producing skilled graduates who contribute to India's growing technology sector. The city is not limited to traditional academic disciplines; it also houses many renowned business schools and management institutes. Furthermore, the medical and healthcare sector in Hyderabad is bolstered by many institutions. These institutions provide top-notch medical education and training, helping to meet the healthcare needs of the region. Hyderabad's colleges and universities contribute significantly to the city's cultural diversity. Students from various backgrounds and regions come to Hyderabad, creating a vibrant and cosmopolitan atmosphere. Hyderabad's colleges and universities play a pivotal role in shaping the educational landscape of India.

This issue of Higher Education Review talks about some of the professionally managed colleges in the country, which has been nurtured with best technical and professional infrastructure and assistance from efficient and skilled faculties ensuring delivery of quality higher education and research. This issue spotlights a list of 'Top 10 Colleges from Hyderabad– 2023', the list has been crafted by a team of Industry veterans, CEOs, VCs and the Higher Education Review editorial team.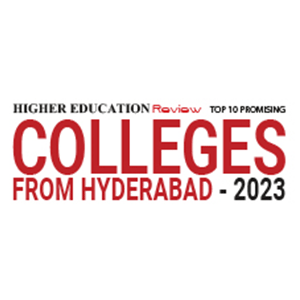 Nominate College/Institute
×
Nominate College/Institute
Our subscribers play a decisive role in finalization of our annual list of "Top 10 Promising Colleges From Hyderabad – 2023" by nominating those which have served them with excellence and are praiseworthy. If you feel there is a College/Institute that deserves to be on our annual list, do write to us about them mentioning their value proposition.
Data not inserted