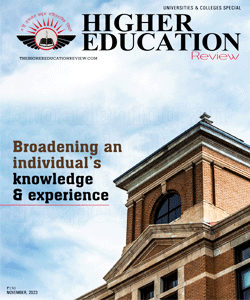 Top 10 Universities & Colleges In Poland – 2023
Universities & Colleges Special

Universities and colleges in Poland offer a rich tapestry of educational opportunities in a historically significant and culturally rich setting. The academic excellence, affordability, and vibrant student life make Poland an attractive destination for both domestic and international students. With its deep-rooted commitment to higher education and a growing presence on the global academic stage, Poland's institutions continue to shape the future of the nation and the world. Poland has become increasingly popular among international students, fostering a global academic community. This diversity enhances the learning experience, allowing students to interact with peers from different cultural backgrounds and perspectives. Polish universities and colleges offer programs in both Polish and English, making education accessible to international students. Many institutions have a growing number of courses taught in English to cater to the international student community. Poland is home to several world-class universities that rank highly in global academic rankings. These institutions attract students and scholars from around the world. The country's commitment to academic research is evident through its contributions to various fields, particularly in science and technology. Over the centuries, Poland's universities have played a pivotal role in shaping the nation's intellectual and cultural identity. Today, its universities and colleges continue to uphold this tradition, offering a diverse and vibrant landscape of higher education.

India boasts a network of prestigious health sciences colleges that are pivotal in producing healthcare professionals who are essential in the delivery of quality healthcare services. These colleges are spread across the country and are known for their excellence in education, research, and training. They are affiliated with various universities and offer a wide range of programs in fields such as medicine, nursing, pharmacy, dentistry, and allied health sciences. One of the most prominent sectors within health sciences education in India is medicine. The country is home to numerous medical colleges that offer undergraduate and postgraduate medical programs. These colleges train doctors who become the backbone of India's healthcare system, providing healthcare services and contributing to medical research. Pharmacy colleges in India are also significant in the healthcare sector. Dental colleges, too, are instrumental in producing qualified dentists. These colleges offer undergraduate and postgraduate programs in dentistry, equipping students with the skills to address oral health issues. Moreover, allied health sciences colleges in India are on the rise, offering programs in various health-related fields such as physiotherapy, radiology, medical laboratory technology, and more. These institutions play a pivotal role in improving the overall health and well-being of the Indian population and are integral to the development of the country's healthcare system.

Entrepreneurship is a driving force behind economic growth and innovation. In India, a burgeoning ecosystem of colleges and universities offers diverse entrepreneurship programs to nurture and empower aspiring entrepreneurs. Entrepreneurship education plays a crucial role in shaping the future of India's economy. It equips individuals with the knowledge and skills needed to identify opportunities, develop innovative solutions, and create successful businesses. It fosters a culture of innovation, risk-taking, and problem-solving, which are vital for economic growth and job creation. Furthermore, entrepreneurship education empowers individuals to become self-reliant, reducing unemployment rates and fostering economic self-sufficiency. As the Indian society shifts towards an entrepreneurial mindset, more individuals are looking to start their own businesses rather than pursuing traditional career paths. Increased access to funding, mentorship, and support networks has made entrepreneurship a more achievable goal. As the ecosystem evolves, these institutions are well-positioned to provide the knowledge, resources, and support needed to foster a thriving entrepreneurial culture in India. Aspiring entrepreneurs should consider these colleges as valuable destinations for their entrepreneurial journey.

This issue of Higher Education Review talks about some of the professionally managed colleges in the country, which has been nurtured with best technical and professional infrastructure and assistance from efficient and skilled faculties ensuring delivery of quality higher education and research. This issue spotlights Universities & Colleges Special the list has been crafted by a team of Industry veterans, CEOs, VCs and the Higher Education Review editorial team.

Nominate College/Institute
×
Nominate College/Institute
Our subscribers play a decisive role in finalization of our annual list of "Top 10 Universities & Colleges In Poland – 2023" by nominating those which have served them with excellence and are praiseworthy. If you feel there is a College/Institute that deserves to be on our annual list, do write to us about them mentioning their value proposition.
Data not inserted