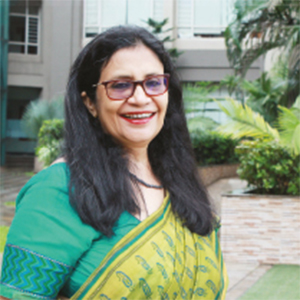 'To be a successful person is one who is kind and compassionate, who has great values and can connect with other human beings. Keeping this in mind, we at RGS have adopted three core values- kindness, respect and gratitude to be imparted to each and every child.'- Anubha Goyal.
A Glimpse into Mrs. Goyal's Career Path
Anubha Goyal was born in the beautiful hill station of Dehradun. At the tender age of 5, she went to Kurseong to study in Dowhill School, and later to the prestigious Welham's Girls School. She then pursued higher education from Loretto College, Darjeeling. She got married to a tea planter and moved to Siliguri where she started her teaching career in 1991, after which there was no looking back. She accompanied her husband to Kolkata and joined Lakshmipat Singhania School. Later she shifted to Coonoor where she taught in a convent school. The Guwahatians were fortunate enough to have her in their city in the year 2003 as the founder Principal of Sarala Birla School where she served for a decade.
Association with Royal Global School
Anubha Goyal joined Royal Global School in the year 2014. The idea of RGS was conceived in the minds of two enterprising businessmen Mr. Ashok Pansari and Mr. A.K Modi that came into being in 2012. RGS is a high-end co-education day-cum-boarding school with a fantastic infrastructure and a congenial learning ambiance. The school