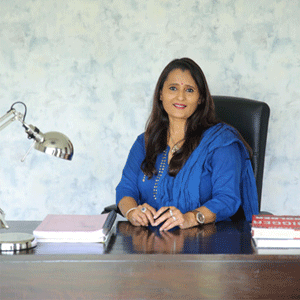 Ajita Reddy
Founder & CEO, Hamstech Institute of Creative Education
The scope of creative careers like Fashion and Designing has seen an upward climb perpetually for the last 15 years but in the wake of the pandemic, it is now at its peak. Irrespective of their age or day job, people wish to enhance a creative skill that they're passionate about which can enable them to become an entrepreneur or professional within that realm.
To provide industry-standard training and education to aspiring creative professionals across India and engender creative careers, the Hamstech Institute of Creative Education was established by Ajita Reddy who is not only a pioneer in offering creative education to young men and women but also a passionate supporter of aspiring minds. Her vision is seen through Hamstech, where industry-standard training and mentoring helps to provide opportunities and shape careers for many young and driven students to turn them into successful entrepreneurs or professionals in fields like fashion design, interior design, photography and many others.
Crafting New-Age Entrepreneurs
With a vision to break the conventions of mainstream education and guide young minds towards turning their passion into a profession, Hamstech intends to provide premium creative education to all aspiring young minds and encourage them to shape their passion and skill into a successful career. While our society has always conditioned us to believe that mainstream education is the only means of having a career, Hamstech has been shifting this paradigm for nearly 3 decades through a variety of creative courses with a belief that unconventional courses can also lead to brilliant professional prospects for budding designers, photographers, stylists and many more.
"We provide a wide array of courses like Fashion Design, Interior Design, Photography, Graphic Design, Jewellery Design, Fashion Styling, Make-Up Artistry, Baking and Professional Cooking. What makes our