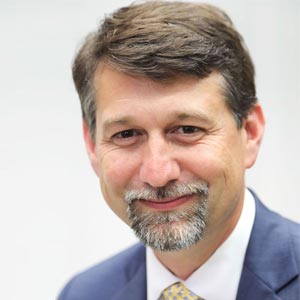 Dr. Matt Lucas
Chancellor, IWU-National and Global
The demands of the global marketplace are changing quickly. This has created a war between corporations and organizations for the best talent while pushing some companies to offer training and education opportunities for current employees instead of recruiting new talent.
While professionally trained university graduates are in high demand, hiring managers are looking for more than the latest competency or skill. Hiring managers said they value integrity as one of the top three most important skills in a job candidate (Society for Human Resource Management, 2016). At Indiana Wesleyan University, we not only prepare students for a competitive global job market, but we help them develop into people of character who value learning and will be the future leaders of society.
IWU graduates are lifelong learners. In fact, 23% of alumni return to IWU to continue their education. The student body is represented in 49 countries today, and graduates of IWU go on to live and work for companies, organizations and governments all over the world. They are prepared both by faculty with diverse perspectives as well as IWU's curriculum which is created and taught through a global lens.
Unique Teaching Pedagogies to Stand Apart from the Rest
With over 100 years of experience serving students, IWU has developed a unique approach that supports the global student. Specifically, the university has created a flexible program that allows an F-1 visa student to work while going to school. The Master of Science in Management (MSM) program is designed to help students explore their personal management capabilities in an environment where they can learn what it means to integrate their own faith experiences at