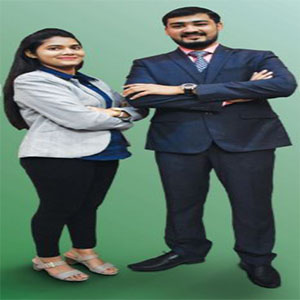 Raman Malpani, Founder
Shivani Sinha, Co-Founder
Raman Malpani, Founder
Graduated in Computer Science Engineering from Poornima College of Engineering, Jaipur, Malpani is a polyglot by passion. He is brain and heart behind the establishment of Namaste German, a unique foreign language-training platform wherein a person can learn in detail at the comfort of his/her home. He is also associated with multiple colleges & corporate MNCs across India & Europe for online trainings of their employees. He is also into Software Test Automation Tool Trainings & Software Testing trainings for working professionals. He is also associated with an educational magazine the Class Gossips Magazine published quarterly.
Shivani Singha, Co-Founder
Shivani did her Graduation from Hans Raj College - Delhi University and Daulat Ram College - New Delhi. She has been into German trainings since last 6 years and has worked in MNCs like Amazon India in German profiles. SHe trains the languages from the very basics to the advanced levels. The unique experience of working in corporate giants like Amazon plus teaching German makes her very much suitable to tackle all categories of students and working professionals who wish to learn a new language. All her lectures are flooded with a lot detail, consisting of numerous examples and practice covering all aspects of the language viz. reading, writing, listening and speaking. An avid learner of new languages, Shivani makes learning any language a fun with his detailed and systematic lectures.
With the increasing diversity of Indian workforce and an ever-expanding global economy, the demand for candidates with foreign language proficiency is as strong as ever. Undoubtedly, being multilingual increases employability. In fact, we all know this fact and we do take a serious count on the number of languages we know while preparing our resume to apply for a job. For most of us, this resume or CV preparation exercise happens during our college days. We would start with writing our objectives – mostly copied from the sample or a friend's resume. Then, we would move on to write our skill sets, education qualification and towards the end, we would have another regular column to fill – language proficiency. As Indians, we all will have a minimum of two languages to mention – a vernacular language and English as a foreign language. Why we cannot have more names in the list of foreign languages we know? This very thought changed a man's life forever - Raman Malpani, the founder of Namaste German.

A decade ago, Malpani was in his first year of computer science engineering, filling up the columns in a sample resume given by his college director. The sample CV had an option in the end, which asked him the 'names of languages' which he could speak. Hailing from Jaipur, Malpani knew only two languages – Hindi and English. However, he was not ready to leave that part with just two entries. Malpani says, "There was always a curiosity after that incident. I started thinking about the significance of learning a foreign language." Jaipur in 2008 has not had many options to learn a foreign language, neither the internet had that much of information at that point of time, which could have guided Malpani properly over how, why and where to pursue such courses.

"Today, hundreds of people from different countries of Asia, Eurupe and the U.S., and many cities, towns and villages of India access the Namaste German portal every day."

"After few days, I encountered a coaching institute near my home, which used to train some foreign languages like French, Japanese and so on. I would say it was all destined for me to land up there and join that course out of curiosity," recounts Malpani.

Malpani, a Computer Engineer by education, now runs a cutting-edge online portal called Namaste German, which has a unique online training pattern that replicates the exact offline training curriculum and training styles. Shivani Singhal, friend cum wife of Malpani, has always been a very strong pillar of all his ideas. "Shivani has been a topper of her college studies when she was learning German. She is the one who first inspired me to start such a portal for the benefit of all. Also, many thanks to my mother who supported me in all possible efforts with all limited resources she had," ," says Malpani.

Crossing the Geographical Barriers

"Running a digital portal is never easy until and unless you know the how, what and when of the digital technology like website development, SEO and many other technical aspects," opines Malpani, who has an added advantage of having knowledge of both the sides - the German language proficiency as well as Computer Science Engineering. However, Malpani has been successful in operating the Namaste German portal without any major trouble. "Our portal is a unique combination PM Narendra Modi's program - Make in India, Digital India and Start Up India. Make in India because we are the first to have such a kind of portal not just in India, but also across Asia, Europe and America. Digital India, since we use the technology to leverage our knowledge across the geographies. And, Start Up India because our concept is novel, out of the box and very innovative," elaborates Malpani.

Today, hundreds of people from different countries of Asia, Eurupe and the U.S., and many cities, towns and villages of India access the Namaste German portal every day. "Regardless of the social status and profiles of people, our foreign language courses today have been embraced by almost all quarters of the society. We are meeting the increasing expectations of those students who have deficient means to pursue higher education through regular manner," claims Malpani. Namaste German holds detailed video recordings of German classes prepared under the surveillance of Malpani and Shivani. A student can first see a couple of free demo lecture on the portal and then enroll for the complete course there itself. "We have complete courses available from A1 till C2 levels of the language i.e. covering from scratch till the advance levels. The lectures cover all modules of a language, be it, reading, writing, listening, speaking, sentence framing practice along with free doubt clearing sessions," explains Malpani.
If Namaste German is about showing prerecorded video tutorials for a nominal fee, then how is it different from portals like YouTube and Udemy? Malpani answers, "Our courses are very crystal clear in their curriculum, properly managed as per the requirements of international certification exams and arranged systematically covering enough practice targeting a person to get a good command over the language. It saves a student's precious time as the course covers all elements required to learn and practice a language." Namaste German also has live training sessions with fixed timing and limited number of learners. Malpani pinpoints, "Our live online training sessions have very small batches to ensure quality and most of them are one-to-one classes. On an average, we get around 100 requirements from all over India and Europe in a single day for the live training sessions, but still we do not make a lot of group batches, because quality wise and flexibility wise trainings are better in one to one."

Although a highly sought after online platform for learning a new language, Namaste German is not an entirely virtual organization. Those who want to study in a traditional classroom environment can visit the institute's learning center in Jaipur, where they can meet expert trainers like Shivani Singhal. Apparently, Malpani prefers more students to join online classes. He opines, "Courses run by offline institutes in the country and across the world are pretty expensive and not affordable to all categories of people." At Namaste German, Malpani breaks this barrier through detailed prerecorded video courses, which are highly cost-effective as compared to the regular offline centre courses. He adds, "We understand what a student or a working professional expects from us when he/she enrolls for any foreign language courses. For us, the priorities are very clear - to make everyone and anyone learn a foreign language right away from his/her home and at the same time making the course as economical and feasible for them as possible."

With over 5000 enrollments every year from all over the world, Namaste German is proving that Indians can have native-level fluency in languages other than his own native tongue and we can teach anyone the secret of becoming a polyglot. "Learning a foreign language is very beneficial for all categories of people, whether they are working professionals or students. It increases employment opportunities for people and there is a high demand of skilled polyglots in tourism and hospitality industry in the country," says Malpani. Having an excellent online presence in countries like Germany, Switzerland, France, Dubai-UAE, Oman, UK, USA and Mauritius, Namaste German wants to spread its name to all towns, cities and even villages of India. Malpani and Shivani have also planned to start school and college level dedicated German courses by end of year 2018. "Today, whatever we have achieved so far has been possible only because of the positive reviews of our learners. Obviously, with time and increasing internet penetration across our country, online learning space will grow beyond our imagination. However, one thing is sure, we have to sustain the quality of the trainings we impart to achieve more in this space," concludes Malpani.

What Learners Talk about Namaste German

"I have been attending the classes via Skype sitting in Germany. It has been just 12 classes yet, but the level of confidence built is enormous. The way the trainer approaches to build in the concepts is very good, thought the classes are taken via Skype, I still feel like it is lively in the classroom. The instructor is dedicated and goes extra mile to help me to understand always. I can say Namaste German offers the best way to learn a foreign language when you cannot afford to attend the classes physically due to time constraints,"

Madheswaran P G, Project Specialist MCN Design

IKEA Distribution Services GmbH & Co. KG, Dortmund, Germany

"Was amazing learning French language with Namaste German Online Foreign language trainings where combination of fun and learn together resides. Great teaching and learning center for German language course. Indeed, very splendid teaching. I am looking forward for learning and mastering at this German language session. Three cheers to Namaste German!!"

Padmanas Ravula, Australia