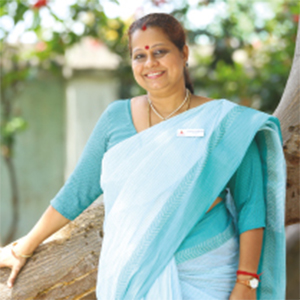 Sugandhi Viswanathan is a passionate teacher first, trainer, transformer and a principal who believes in life-long learning with a vision for self and others and believes in principle centered leadership. She believes that focusing on what is there and what needs to be accomplished most effectively will bring out the excellence in any field. She is an avid reader and keeps herself abreast with the latest developments in the field of education and understanding the perspectives that drive these developments. She is a proud Indian who has a deep respect for the ancient heritage of our country and values her country stands for.
We create an environment which is conducive to trigger the neurons in the brain and the creativity, critical thinking, logical thinking and thinking beyond the box happen in children - Sugandhi Viswanathan.
A visionary like Dr. J. Arawindhan, the founder of Aklavya International School, (AIS) nurtures the core belief of students having latent talents in arts, science, or commerce and builds a strong foundation for them to defy any unfavorable life circumstances for accomplishing academic desires. "Teachers like me who aspire to design career paths for students through which they can create a mark of humanistic aura, always thrive for resonating philosophies from our chief mentor, Dr. J. Arawindhan. He believes that every child is born with 100 percent intelligence and textbook knowledge amplifies it," says Sugandhi Viswanathan, Principal, Aklavya International School.
Located in Thengaithittu, Puducherry, one of the most charming union territories of India, Aklavya International School follows ICSE curriculum which emphasizes the conceptual understanding of students from class 1 to class 12.
Sugandhi went on to add, "The curriculum in itself does not encourage rote learning and lays emphasis on conceptual understanding. On top of that we insist on skill building relevant skills of the subject as well as the 21st century skills. Suppose, if we are dealing with a concept like food we look for understanding of the students at the bloom's taxonomy levels whether they are able to list, classify, differentiate, demonstrate, apply to creating a balanced nutritive value on one hand and on the other understand and appreciate the value of the food placed before them, learn about all the hard work so many people have put in to put the food in front of them, respect nature for the nurture they receive deeper values beyond the lessons which will help them live life in appreciation, a positive world filled with possibilities and ensure