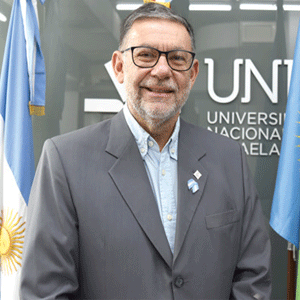 The Universidad Nacional de Rafaela (UNRAF) is a public university located in Rafaela, Argentina. It is one of the growing numbers of universities in Argentina that have filled the areas where there were no higher education institutions before, making it possible for thousands of people to access higher education. The university focuses not only on academic progress but also on students' health and multicultural skills. UNRAF is preparing students for the industry with the uniqueness of its higher education courses, the quality of its faculty members, its modern-day infrastructure, scholarship opportunities, and its industry-academia partnerships.
"Preparing students for the industry is a significant challenge for higher education institutes in Argentina, but UNRAF is addressing this issue. The university maintains links with many companies in Rafaela and the region to provide opportunities for professional practices, internships, research and development scholarships", says Prof. Dr. Ruben Ascua, Rector. UNRAF Tec, an applied research center consisting of nine laboratories, focuses on key issues for industrial development, such as digital transformation, information management, industrial design, circular economy, energy efficiency, and environmental technologies.
In addition, research and technological services are developed in laboratories for the food industry, video games, and digital media. All these areas allow students to interact with the productive network, enriching their training experience and developing new skills.
Uniqueness of Higher Education Courses
UNRAF offers innovative courses that focus not only on academic progress but also on the students health and multicultural skills. The university offers a sports program, internships in local companies, mental health assistance, and volunteer programs. UNRAF considers that all these experiences will help students develop intercultural