Higher Education Review ›› Magazine ›› December-2017 ›› Special issue
CSE & IFS :Delhi Institute for Administrative Services
Author : HER Team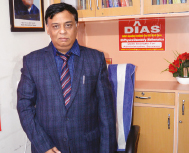 D. P. Vajpayee , Founder Delhi Institute for Administrative Services
The Melting Point of Passion and Commitment
Doing M. Phil in Environmental Science from Jawaharlal Nehru University (JNU), Delhi after graduating from the prestigious IIT-Bombay may not be an intelligent move in today's time. Hailing from the city of Taj, Agra, D. P. Vajpayee was ready to take that risk two decades ago. But why? Vajpayee says, "I was always driven by the passion to do something for the nation. In 1991, I moved to Delhi, so that I can prepare for Civil Service Exams." The capital city of India has always been a hub for IAS aspirants. Every year, thousands of motivated learners from different parts of the country arrive in the city and join in any of the IAS coaching centres located in Rajender Nagar or Mukherjee Nagar, with a hope of becoming India's superior public servants one day.
DIAS is second to none in the country when it comes to preparing CSE aspirants who take Physics/Chemistry and Mathematics as optional
Managing his studies in JNU and CSE preparations simultaneously, the hardworking and committed Vajpayee did crack the CSE mains twice � in 1993 and 1994. Alas, in both the attempts, he could not go through the final round � the toughest personality test. �For me, it was one of the biggest setbacks in life,� says Vajpayee. But, he was not among those who would give up soon. With all the experience that he gained over the years, Vajpayee started guiding the learners and he has been exceptionally good as a mentor for people who take Physics as optional for CSE.
Now, for those who come to Old Rajender Nagar seeking an expert guidance in CSE, Vajpayee is popularly known as Vajpayee Sir. Since 2005, he and his wife runs DIAS (Delhi Institute for Administrative Services), where they guide more than 120 students every year for CSE and IFS examination. Sitting in the modest office of DIAS, Vajpayee says, "Preparing for Civil Service is a completely life-transforming experience. At DIAS, we do not focus on creating UPSC exam toppers. We develop students holistically and guide them to become ethical leaders who can contribute to the great process of nation-building."