Higher Education Review ›› Magazine ›› May-2018 ›› Special issue
Athena School of Management: An Exclusive Business School in the City of Dreams
Author : Sarath Shyam, Managing Editor, The Higher Education Review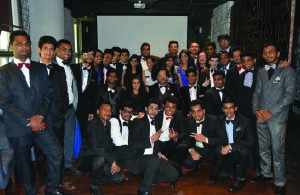 Prof. Aditya Singh, Director Athena School of Management
Located in the corporate hub of Hiranandani Gardens in Powai, Mumbai, Athena School of Management is one of the few business schools in the country with an education model that constantly evolves to meet the current opportunities and challenges in the corporate world. Surrounded by numerous multinational business giants, the Institute connects extensively with the industry leaders to equip the student to tackle the real-world challenges with Wisdom and Courage.
At Athena School of Management, the learning sessions in class are not about copying notes. Instead, the pedagogy is inspired by the Socratic method of learning that questions the critical thinking of the students by tearing down old ideas and replacing them with new ones. "We emphasize on practical and experiential learning driven by Exposure and Internships. Our classroom sessions include debate, discussions, case studies, role-plays, presentations and business simulations," explains Prof. Aditya Singh, Director of Athena School of Management.
With an average package of Rs. 7 LPA, Athena has achieved 100 percent placement for all the eligible candidates
Being a business school, which was created by senior business leaders, industry plays an integral and essential part of the Athena PGPM Program. Most of the faculty members of Athena are senior executives from the corporate and consulting sector with decades of experience in management, leadership, and decision-making positions. According to Prof. Singh, "They are mostly at CXO, Director or VP level in organizations of global standing and outreach."
When it comes to the executing knowledge gained in the classroom, Athena PGPM offers Multiple Internship opportunities for the aspirants. In every semester, Athena students spend two-months across multiple companies, verticals, and sectors. "Students who perform well in their Internships may also receive a pre-placement offer or pre-placement interview from the company," pinpoints Prof. Singh. In addition to that, Athena PGPM has two International Immersion programs. In the 1st year, students can attend a two-week program at the world famous Nanyang Technological University (NTU) in Singapore focusing on Entrepreneurship. In the 2nd year, they have an immersion program with the Mannheim Business School in Germany focusing on Leadership. Prof. Singh adds, "The opportunity to interact and learn from the some of the best management faculty in the world, to meet with and exchange cultural and professional ideas with international students, all the while staying in Global Campuses, is truly an enriching and empowering experience."