Higher Education Review ›› Magazine ›› December-2016 ›› Special issue
Diminishing Gender Gap in Higher Education: A Silent Revolution
Author : Dr. Tanuj Nandan, Associate Professor and Head, Motilal Nehru National Institute of Technology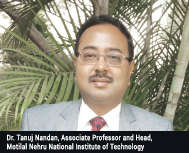 We live in an era dominated by technological advancements, wherein quantum jumps and disruptive changes are the order of the day, and incremental improvements tend to be treated as routine. In the midst of this rush for rapid changes, there has been one area where steady albeit slow growth has created the potential for a socio-economic revolution in India. This is the ever-increasing growth in female enrollments in courses of higher education, which has closed the gender gap to an extent, where the ratio of females in undergraduate courses is very close to the overall gender ratio of the country.

The change has been largely imperceptible and it might have been felt in residential co-educational institutions of higher learning, which have found that the demand for hostel accommodation for girls over the past few years has increased at a pace faster than the growth in overall intake. It is possible that only a few have actually been able to link such growth in demand with the silent revolution at its core.

The Government of India's All India Survey on Higher Education (AISHE) is indicative of the steady improvement of enrolment of girls in courses of higher education over the years, invariably over all the categories of Ph.D., M. Phil, Postgraduate, Undergraduate, PG Diploma, Diploma, Certificate and Integrated Programs. Accordingly, the Gender Parity Index (GPI) for Higher Education, as per AISHE 2014-15 and 2013-14, stands at an impressive 0.92, as against 0.88 in 2011-12 and 0.89 for 2012-13, marking a significant and continuing improvement over past years.

The logical question to be asked is about the enhancement in the number of girls enrolling for higher studies translate into encouraging news for the society and economy as a whole? The answer lies in the fact that an increase in economic opportunities for women is the cornerstone of development. Education opens up a variety of employment opportunities to women, and helps them contribute to the economic well-being of the family unit at the individual level, as well as to the overall economic development of the country. It is no surprise, then, that women have risen to occupy positions of eminence in almost all areas of work, in India, and contribute significantly to its economy.

Further, the woman herself is at the cornerstone of decision making at the level of the household. According to a variety of studies, a mother's education has a causal impact on her children's overall success in life through a variety of mechanisms, and results in better academic outcomes, better health and overall better social skills. Mothers who have themselves undertaken higher studies tend to aid in the cognitive development of their children by designing intellectually stimulating activities for their children, and thereby contribute significantly to the formation of human capital. They also support socially appropriate behaviours, and thereby enhance cultural capital. Overall, they can reinforce and greatly enhance the efforts of their spouses in imbibing individual and interpersonal skills within their children, leading to the creation of social capital.
India has proven to be a true embodiment of the principles of equality laid down in its charter, notwithstanding some infrequent instances of discrimination. All educationists need to embody and encourage this spirit of equality in their attitude towards women and their education. The nation is poised to reap the advantages of the much aspired-for demographic dividend, if we allow women equitable and just opportunities to compete in the field of higher education and in professional life. The future holds much in store for our coming generations, and a lot of this promise comes from the fact that gender gaps are diminishing in academics and at the workplace, and women are proving their mettle in both spheres.