Higher Education Review ›› Magazine ›› December-2016 ›› Special issue
Employer Satisfaction: Rajalakshmi Engineering College
Author : HER Team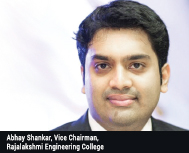 Rajalakshmi Engineering College (REC) was started in 1997 under the aegis of Rajalakshmi Educational Trust whose members have had consummate experience in the fields of education and industry and a vision to build an institution of excellence in Engineering, Technology, Management Education and Research. Today, REC is highly focused on research. Ever since its inception, the Institution has taken concerted efforts towards encouraging Innovation and Research. Therefore, a Research and Consultancy Advisory Board (RCAB) was constituted to strengthen research activities, enhance industry interaction and to foster industry relevant research. This board provides support and guidance to enable faculty and students to take-up research and innovative developments relevant to industry as well as society and is now renamed as a Centre for Sponsored Research and Consultancy (CSRC).

"We maintain a very active relationship with the Industry and other academic institutions of repute, which explores possibilities of being accredited by the corporate sector to facilitate deeper Industry Institute Interaction. This has enabled us to leverage upon Industry's expertise in setting up of Joint Certification Centres (JCC) and Centres of Excellence (COE)," says Abhay Shankar, Vice Chairman, REC. Centre of Excellence in Machine Vision and Centre of Excellence in MEMS and Micro-Fluidics along with two more groups are actively involved in pursuing research, leading to socially relevant solutions. There are various research labs pursuing research in different areas such as medical imaging, low cost air-condition systems, composite materials, and many more. In order to secure an Outcome Based Education (OBE) framework for all programs, which assess the outcomes quantitatively; systems to assess and review various components of OBE framework such as Pos, PSOs and PEOs are being facilitated. Result of this quantitative assessment of attainment of various outcomes enables them to identify gaps and to design suitable value addition programs.

Taking cognizance of the advantage of becoming an autonomous institution, REC has already taken steps to become autonomous soon, which will enable them to be more flexible in terms of revising the curriculum and syllabi for the various programs. The pre-placement activities of REC start with a residential Employability Training Camp for the students. During this camp, several programs are organized to help students prepare for Aptitude tests, Group Discussions, Technical and HR interviews. Students are given the best of the opportunities that the Industry offers through Guest Lectures, Internships, joint certifications through Bosch Limited and Wipro UTLP, Industrial visits, Adjunct Faculty visits and so on. Also the students get the benefit of undergoing training on personality development, soft skills, language skills etc. through a robust training framework that the Institution has put in place. Close to 90 percent of our students receive offers from leading corporates like TCS, Wipro, Accenture, Cognizant, Kone, with an average salary of Rs.3.30 lakhs and the highest of Rs. 7.60 Lakhs per annum.

"The combination of soft skills and the Technical skills have made students "Plug and Play" in the Industry, thus making their vision come true and spreading highly qualified technical professionals across the globe," concludes Abhay Shankar.