Higher Education Review ›› Magazine ›› December-2017 ›› Special issue
Fashion & Design: Gurumantra
Author : HER Team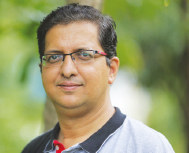 Kiran Sabnis, Co-founder Gurumantra
Mentoring Creative Minds
Gurumantra is an innovative institute for students who aspire to establish their career in creative fields like design, architecture and fashion. A pragmatic pedagogical approach embarks every student on a unique journey of introspection, exposure, and empowerment. A student-centric eco-system with personalized learning paths sets Gurumantra a breed apart.
Today, many students of MAD School are studying reputed colleges like SPA, JJ School of Arts, JNAFAU, NIFT, NID and IDC.
"Many of our students are performing exceedingly well in top design schools like NID, IDC, IIT, NIFT, Srishti, MIT, SID and many architecture colleges. Though, we work relentlessly to see more and more of our students enter the top design schools in India and abroad, pursuit for 'holistic transformation of the students' is our anchor," says Prasanna Joshi, Co-founder, Gurumantra.
Formally launched in 2014, they have been actively perpetuating design awareness across students, parents and the society at large. The diligent team at Gurumantra has meticulously designed their platform to dynamically cater to students with diverse backgrounds, varied needs and assorted skill-sets. Right from induction, the empathetic orientation experience adapts to the multitude of emotions such as anxiety, stress that affect students and helps them build a positive outlook to a sustainable design career.