Higher Education Review ›› Magazine ›› February-2015 issue
How online certification courses help the professionals do well in their career?
Author : Krishna Kumar, Founder & CEO, Simplilearn.com.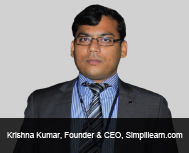 Online certification courses are becoming popular among professionals and it is obvious as certification is one of the best ways for career growth. An online course makes the same easily achievable. This reading aims to throw light on how online certification courses help professionals do well in their career and why do professionals need to go for a certification course.

Most professionals go through a phase of career stagnation after few years of employment. This is due to a monotonous way of working without any career growth. Career growth can also be stunted because of lack of up-gradation of skills. The world is constantly changing and so is the industry where one works, it becomes important for one to stay updated with the newest technology for personal as well as professional growth.

Apart from a learning point of view one also needs to showcase their learning with relevant credentials and that is when they need certification courses. By achieving a professional certification, one can showcase their dedication towards their career and their proven skills to potential employers. In the journey towards certification, professionals need to go through a rigorous exam preparation which polishes their knowledge and educates them with the latest releases. A professional certification can earn a better compensation, job opportunities and challenging projects. Saying this, a certification course is definitely worth it.

The way online certification course plays its role has to be understood. For a professional, more than investing money, investing time for higher education is a challenge. Most of the professionals find it difficult to take out time from their work life to invest in higher education. Online certification course in such scenarios come handy as an online course gives them the liberty to study from their own space and comfort without having to compromise on their working hours. Besides, online certification courses are affordable.

Various survey reports state that majority of working professionals choose online certification course due to convenience and affordability.