Higher Education Review ›› Magazine ›› June-2018 ›› Special issue
IEC University: An Educational Ecosystem where Purpose meets Execution
Author : HER Team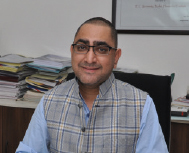 Dr. Bharat Parashar , Professor and Dean IEC University
Situated on the foothills of enthralling and beautiful Shivalik Mountains at the HIMUDA Education Hub, IEC University is scattered over 14.5 acres of land comprising avant-garde facilities. The University welcomes students from different parts of the country for experiencing an unmatched international standard education in an extremely rewarding teaching and learning environment. Aiming to deliver multi-disciplinary world-class education through effective and efficient processes so as to make it accessible to all sections of society, the University is endowed with two floored Digital library, acoustically designed auditorium, 80 lecture theatres, well-equipped labs, a Computer Center with 24X7 internet connectivity and so on. The University is committed to making the journey of the students in the campus a fruitful one where students can realize their dreams and achieve the determined goals.
"Our motto is to equip students with the knowledge, skills, and ideas for living and working successfully in the world of rapid social and technological change. We make sure that by the end of the course, every student should be job-ready," shares Dr. Bharat Parashar, Professor, and Dean, IEC University. Recognized by UGC and a member of the Association of Indian Universities, the University houses 11 Schools in its campus Viz. School of Engineering, School of Computer Application, School of Basic Sciences, School of Business Management &Commerce, School of Pharmacy, School of Law, School of Architecture, School of Journalism & Mass Communication, School of Art & Design, School of Hotel Management, Travel & Tourism and School of Physiotherapy. The students aspiring to study at IEC University are given the option to choose their desired course at Diploma, Certificate, UG, PG, and PhD level.
The vibrant and motivating ambiance of the IEC University never fails to engage the students in one or other productive activities
For conducting the courses, IEC has obtained the recognition/approval of Statutory Bodies such as Bar Council of India, Council of Architecture, Indian Association of Physiotherapists and Pharmacy Council of India. The University pays a lot of heed for revising the curriculum based on the need of hour which is annually performed by the Office of Vice Chancellor and Dean Academic Affairs."The curriculum revision procedure at IEC is quite extensive. It starts with faculty member submitting proposed revision and end with the submission of the final revision to the Registrar. We don't want to leave any stone unturned in terms of staying abreast with the development in the educational arena," pinpoints Er. Randeep Singh, Dean Academic Affairs. The students are delivered education through adopting latest teaching methodology including power point, case studies, practical exercises and corporate guest lectures.
Keeping Pace with Industry