Higher Education Review ›› Magazine ›› December-2016 ›› Special issue
Industry Collaboration: Chaitanya Bharathi Institute of Technology
Author : HER Team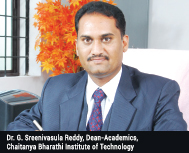 The ongoing academic year has been a busy time for students and faculty members of Chaitanya Bharathi Institute of Technology (CBIT), a highly reputed engineering college located at Proddatur in Y.S.R. Kadapa District, Andhra Pradesh. Apart from in-house research projects by various departments, the institute has been working on four groundbreaking projects using the grant given by the Ministry of Micro Small and Medium Enterprises (MSME), New Delhi. The projects include finding innovative approaches to design Energy efficient Irrigation System using Wireless Sensors, Dynamic Street light Monitoring system with fault detection, Agricultural Drip Irrigation with Automated submersible pump System and Internal Combustion Engine to run with water a Fuel. Hence, the R&D cell, which is headed by a Dean of R&D, is one of the most happening places in the CBIT campus. The vibrant R&D culture of CBIT fosters innovative spirit and kindles the young minds at the campus under the guidance and mentorship of motivated faculty members in all the departments.

"Our college has a MSME incubation centre through which we already got project worth of Rs. 28 lakhs. Our students are working very effectively and efficiently on these projects," says Dr. Pandurangan Ravi, Principal, CBIT. The sponsoring Body of CBIT is Bharathi Educational Society, which was established with an objective of providing quality education to the people of Rayalaseema Region. After gaining rich experience in the field of education at the school level, the Society forayed into the field of technical education by establishing Chaitanya Bharathi Institute of Technology in the academic year 2008, affiliated to Jawaharlal Nehru Technological University, Anantapur with the recognition of Govt.of A.P, and with the approval of the All India Council for Technical Education. (A.I.C.T.E), New Delhi.

The institute always intends to play a multi role and always wants to be the role model for other institutions. Using the grants from organizations like MSME, The College have created a platform for the students to become conversant in their respective fields. CBIT also encourages the students to participate in events and invite many guest speakers who play a vital role in the future world."We are affiliated to Jawaharlal Nehru Technological University, Anantapuramu and the curriculum and syllabi prescribed by the university are strictly adhered to. Apart from this prescribed curriculum, we have strategized ways and means to strengthen the teaching-learning process," claims Dr. Pandurangan Ravi.

The college is tied-up with APSSDC through which online training sessions of the latest technologies like Cloud computing, Android Technology, Big Data and many more have included in the teaching-learning process. "In today's day-to-day world, industrial technology is being updated and changed dynamically because of new inventions. Therefore, to cater to that we are planning to start Finishing School Concept from next semester onwards to match the industry need more accurately," concludes Dr. Pandurangan Ravi.

Dr.Pandurangan Ravi, Principal
Dr. Pandurangan has 24 years of experience in Teaching and Administration. He did M.Tech, MBA &Ph.D. He has published 16 Research Papers in National and International Journals. He is a Member of ISTE, IEEE, CSI. He is an Editorial Board Member for six International Journals. He has visited University of Pardubice, Czech Republic as a member for Faculty Exchange Program and he has visited 9 Countries across the Globe to participate the Conference, Workshops & Seminars as a Keynote Speaker/Session-Chair/Participant. His service in the field of Education is highly commendable.