Higher Education Review ›› Magazine ›› December-2016 ›› Special issue
Innovative Curriculum: RV College of Engineering
Author : HER Team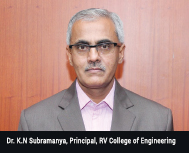 There are thousands of engineering institutes in the country and each claim to offer the best of education and opportunity for employability. Indeed, only few of them have genuinely been successful in providing a holistic learning experience to students; RV College of Engineering, Bangalore is one of them. Dr. K.N Subramanya, Principal, RV College of Engineering says, "We have been the preferred institute for many years at a stretch and receive the best of students. As the higher education sector in the country is in a transitional phase, moving from memory based to outcome based, is the need of the hour."

The goal to prepare a curriculum, which is outcome based and offers experiential learning at the same time demanded a tiring effort of the faculty, but the institute has started enjoying the fruits of success. Designing the curriculum with a palette of 50 electives and additional courses, RVCE has sown the seeds of interdisciplinary learning among students from any stream of programs. Apart from that, courses such as Environment and sustainable technology, Intellectual Property Rights, Entrepreneurship Development and Engineering Materials are included in the curriculum.Dr. Subramanya further adds, "Curriculum is the basic step towards excellence. It takes more than everything to keep intact the vision of -leadership in quality technical education, interdisciplinary research, innovation with a focus on sustainable and inclusive technology."

RVCE has explored the platform of research in three different ways -Research, Innovation and Entrepreneurship. Out of which,Research and Innovation in this institute has been fostered through inter-disciplinary research centers. The institute has setup a good number of research centers such as Macro Electronics, Hybrid Power, Green Infrastructure Management, Internet of Everything, multi-functional materials and many more. RVCE currently is executing more than 23 sponsored research projects worthRs. 25 crores in the areas of Sensors, Networks and Communication, Multi-functional Materials, Nano Science, Surface Engineering & MEMS, Data Mining, Energy Efficiency & Management. The institute has state-of-the-art research facility and takes up consulting projects through organizations of repute. RVCE's unique initiative includes providing holistic development of students. This has led to development of India's first PICO satellite, Hybrid automobile vehicle, Unmanned Aviation Vehicles (UAV), Drones, Robots and Racing Cars. Students were encouraged to participate in various competitions. The list of innovative clubs include Ashwa Racing (Formula Style Hybrid & Combustion Race Cars), Helios Racing (All-Terrain Vehicle (ATV)), Chimera (Hybrid Vehicles), Garuda (Super Mileage Cars), Vyoma (Unmanned Aerial Vehicles (UAV)), Jatayu (Autonomous Aerial Vehicles), Solar Car and Ashtra Robotics (Robotics). They have consistently won many awards in Sports and Cultural activities at the Regional, University, National and International level competitions. The institution has MoU/MoA with more than 50 National and International companies.

As the third dimension, entrepreneurship develops from these types of innovative activities. Arranged by the Entrepreneurship Development Cell of the institute, students receive guidance from start up owners and alumni to mould their innovative ideas into ventures. Continuing with the pace to excel, RVCE puts the same efforts in the placement activities as they do in imparting research, innovation and entrepreneurial expertise. The Principal of RVCE claims that their campus witnessed 177 organizations during the last placement season and has secured 91 percent record consecutively from many years now. As the nation marches towards excellence in education empowering youth, RVCE plays an important part on imparting employability to the youths through their outcome and experiential based learning formulae.

Dr. K.N Subramanya, Principal
He has been serving the institute for the past 21 years and has been an integral part of RVCE's Department of Industrial Engineering Management. In a journey to Principal from Assistant Professor, he has obtained specialization in Supply Chain and logistics management, E-Commerce, lean manufacturing, Optimization and simulation models and many more.