Higher Education Review ›› Magazine ›› December-2016 ›› Special issue
Lets Stop for a New Start
Author : Sarath Shyam, Managing Editor, The Higher Education Review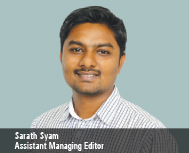 2016 has been a busy and exciting year in the education world and let us look into the major events that gave us hopes and despair. In the beginning of this year, Union Budget instigated mixed reactions in the education sector. Well, many people appreciated the efforts from the Finance Ministry to allocate Rs 72,394 crore in the education budge compared to Rs 68,963 crore allocated in the last year, for a large chunk of experts in the field, the Finance Minister's budget speech sounded more like a manifesto than budget. Although, it was an absolute delight to find education being listed among the "9 Pillars" of this year's budget, the budgetary allocation failed to create an image of education as one of the top priorities of this government. One example was the allocation of Rs. 1804 crore for skill development, which is insufficient, considering the large population youths in India and its demographic divide.

On the flipside, the industry looked unsatisfied due to the inadequate quality workforce supply from the academic sector. Both management and technical education were under fire for churning out degree holders who were ill-equipped with the skills required to survive in the dynamic technology environment. The massive Indian universities were also highly criticized for their inability to achieve spots in the global rankings. In all this turmoil, we at the Higher Education Review were busy handpicking the educational institutions in India that are providing high-quality services to their student by overcoming all the litigation challenges. We do not want to blindly state that the universities, business schools, engineering institutes, liberal arts colleges and training academies, which were featured by the Higher Education Review Magazine as "the bests" in the education sector. But, definitely, they are the rising stars, who are striving hard to uplift the entire education-ecosystem through innovative teaching methodologies.

In this year end issue, we have identified 'Engineering College of the Year 2016' - a yearly practice that we have been doing since our inception to find the best performers among the technical institutes in the country. On the cover, we have featured, Noida International University, which is offering a truly international education in the Indian soil with students from more than 25 countries.

As we are committed to provide truthful information to our readers about the latest trends in the higher education sector, 2017 promises to be another busy and exciting year for us.

See you in 2017 and until then, enjoy reading.