Higher Education Review ›› Magazine ›› December-2016 ›› Special issue
Management Education - Need For Innovation
Author : Prof. Arya Kumar, Director, Lal Bahadur Shastri Institute of Management, New Delhi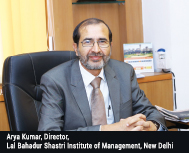 The Indian higher education system is the third largest in the world in terms of numbers, after China and the United States. There has been an unprecedented growth in number of universities, colleges as well as enrollment in higher education system particularly during last one and a half decade. Large number of private institutions entered into education sector- having short term perspective. In tune with the growth in general education, management education system also grew at extraordinary pace during last one and a half decade.

There has been extraordinary growth in number of institutions imparting management education which has increased from 2614 in 2006-07 to 3451 in 2015-16, resulting in an average growth rate of 3.13%. However it had touched a peak of 3865 institutions in 2012-13; implying that net of new institutions has resulted closure of large number of institutions during the last four-five years. It is a matter of deep concern that 260 colleges imparting MBA and PGDM have been closed during last four years i.e. from 2012-13 onwards. The main reason for the closure of the institutions is employability of graduates coming from majority of the institutions has come to a big question mark.
The areas in which there is a need to come out with policy perspective at macro level and innovations at institutional level are quality and excellence with perspective wherein educational institutions need to fully get integrated with the world of work across sectors.

Quality and Excellence- Management Education
With a rapid expansion in terms of number of institutions and enrollment, especially, during last one and a half decade, the greatest set-back and challenge that has arisen is the issue of ensuring quality and excellence in management education. Amongst the three, Indian Institute of Management-Ahmadabad tops the list with being 24th best B-school globally, followed by Indian School of Business-Hyderabad (29th) and Indian Institute of Management-Bangalore (62).

Some of the crucial challenges for achieving excellence in management education and creating institutions with world standards would require innovations in the following areas are relevance of management education wherein the course curricula in general are outdated. Introduction of new areas of specialization and courses is very slow and the greatest challenge for management education is the integration and linkage with industry. There is a need for great interdependency between industry and academia to improve the relevance of management education in curricula development, pedagogy of teaching, new course offerings ahead of time, training to prospective graduates, and involvement of professionals from industry in teaching, and involving young minds (students) in contributing to come out with innovative solutions to problems faced by industry. Secondly, there is a need for innovations in teaching /learning process. To build world class institutions, Indian management education institutions need to continuously innovate, so as to impart relevant education whereby needs of the corporate world and other sectors of the economy are well catered, while providing gainful employment to passing out students.