Higher Education Review ›› Magazine ›› November-2017 issue
Mangalore Institute of Technology & Engineering: Offering the True Essence of Business Studies
Author : HER Team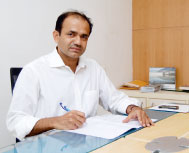 Education is a passion for Rajesh Chouta, the Chairman of Mangalore Institute of Technology and Engineering (MITE). Indeed, his involvement and leadership has made all the difference to the institute since its establishment in 2007. Chouta says, "At MITE, students are taken through a sheer experience in business management. What we provide here is a two-year long experience in handling real life business situations, rather than taking them through mere classroom teachings." Understanding the importance of teamwork in today's business scenarios, MITE has created several student-driven clubs like Finance Club, HR Club, CSR Club and ECO Club in the campus, helping the students and teachers to become more familiar with each other and learn how to work together.
Despite being affiliated to Visvesvaraya Technological University, MITE has been able to bring many innovative training methodologies by breaking the stagnancy of a prescribed curriculum. One of them is Employability Skill Development Program (ESDP) where the students undergo a structured set of training by external and internal experts, which involves development of skills like communication, group discussion and interview techniques, analytical and reasoning ability, business etiquettes and so on.
MITE has established an incubation center in the campus that provides an environment for the startups to flourish, adjust to the business environment, compete and establish themselves in the league.
"Every day situation at the college is also used as examples to demonstrate to the students about real life problems and possible solutions. Our academic projects and assignments are designed to impart practical learning for students," says Chouta. Overall, MBA at MITE can be considered as a pre-job training, not as an extension of an Undergraduate program. Additionally, the Saturdays at the institute are dedicated to the students to meet a successful, practicing manager from the industry. "From the day one, we start grooming our students to take on the role of a manager, so that they can start working from the day one when they enter into the industry," adds Chouta.
As the industry becomes demanding year after year, MITE has been quite active in growing through linkages with industry and institutes of global repute. Presently, the institute is having collaborations with MDIS Singapore, Infosys Campus Connect Advance Partner, Google Student Ambassador (GSA) Program and Binghamton University, New York.
A Stepping Stone for the Budding Entrepreneurs