Higher Education Review ›› Magazine ›› December-2016 ›› Special issue
Noida International University: Preparing for Global Challenges through Cross-Border Education
Author : Sarath Shyam, Managing Editor, The Higher Education Review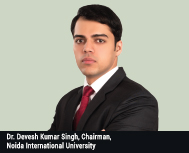 With students from more than 25 countries, Noida International University offers a truly international education in the Indian soil. Hence, studying at NIU is much worthier than graduating with a mere degree.

The 21st century is the start of a global age and no country, sector or institution is immune to from the process of globalization, including higher education. Therefore, internationalization of higher education is of growing significance worldwide, with economic, political and social changes driving an increasingly global economy. Apparently, not many universities in India embrace this concept. Making a difference is Noida International University (NIU), which is a frontrunner in offering its products and service to a large number of foreign clientele. "We have over 1000 students in the campus with international students from 25 countries. Our affiliations are constantly reviewed as we want to stay relevant to what our student's need - so we do not see Internationalization of higher education as a trend but more as a necessity especially in this day and age," says Dr. Devesh Kumar Singh, Chairman, Noida International University.

Known for internationally acclaimed faculty members, competitive curriculum, global student profile and state-of-the-art infrastructure, NIU is a magnet that attracts large number of international students to India. For these student, the privilege or rather benefit of choosing NIU as their higher education destinations is its access to the international counterparts. The university is in the process of signing MoUs with educational institutions across to the globe to facilitate a constant exchange of students and scholars. "We have multiple collaborations and in fact one of our most recent is with New York Institute of Technology, USA and Kings University, Canada. Through our Schools of Architecture Engineering and Business, we have collaborated with not only international institutions but also MNC overseas for Students to receive maximum exposure," claims Dr. Devesh. As per the plans drawn by the NIU, students and professors can join these universities and organizations on a short term or periodic basis to enhance their skills and expertise over particular subjects. These programs can also be used to build one's portfolio for a job or as an additional qualification to secure more lucrative positions as compared to their peers from other institutions.

At present, NIU has 11 schools that offer 150 programs. The curriculum that followed in NIU qualifies eligibility of professional organizations and is developed in collaboration with the international educational institutions. The NIU curriculum is also a product of close cooperation between academicians, industry bodies, education councils and a thorough research on worldwide best practices. "The Academic Council annually reviews each faculty from each disciple. I along with committee - members from our board and school directors look at what needs to be changed and updated. We draw out plans on not just the classroom taught material but also work out the details on what the extra curriculum activities need to be in order for our students to reap the most out of their experience," explains Dr. Devesh.

While, NIU's innovative curriculum ensures that the students are kept up-to-date in the dynamic world of knowledge, interactive learning takes center stage at the NIU classrooms. The university has laid strong emphasis on tutorials, presentations, demonstrations and discussions based learning. With highly qualified faculty members who encourage active participation in class, NIU students are not only given every opportunity to rise questions and clear queries but also be expected to critically analyze and express their finding about a particular topic. The university encourages project based and case based learning where students are exposed to real world problems with an involved teaching-learning process in do it yourself mode. "We ensure that a student: teacher ratio is met - this way each student has a mentor on campus. Having this as a set up helps students talk-out their plans with someone of experience; therefore giving the students the tools on moving in a direction best suited to their skills and expectations," says Dr. Devesh.