Higher Education Review ›› Magazine ›› March-2018 issue
Orient Flights Aviation Academy: To Fly High in the Open Sky
Author : HER Team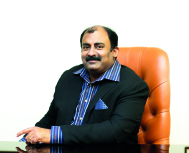 Dr. Anand Jacob Verghese,, Chairman and Managing Director Orient Flights Aviation Academy
The first half of the 1990s was an interesting time for the Indian aviation industry. The declaration of 'Open Sky Policy' in 1991 and the modifications made in the Air Corporations Act in 1994 had unlocked the sector for private players, instigating a cutthroat competition in the market. Down south, Late Dr. K. C. G. Verghese, a visionary who built the entire edifice of the Hindustan Group of Institutions, was keen on these developments in the aviation sector.
With a fleet of just one Boeing 737-200 aircraft, he started an 'Air Taxi Operator' with service between cities like Chennai, Cochin, Mumbai and so on.
Being one of the youngest flying institutions in the country, OFAA gives the student pilot undivided and individual attention through highly experienced quality Flight Instructors.
Unfortunately, his air taxi service did not get a perfect takeoff. However, with an aim to overcome the shortage of personnel and human resources in the Aviation Industry, in 1994, he managed to open Orient Flights Aviation Academy (OFAA) in Pondicherry, which was subsequently shifted to Mysore, Karnataka. Now, administrated by his son, Dr. Anand Jacob Verghese, another flying enthusiast and the Chairman and Managing Director of Orient Flights Aviation Academy, the institute produces professional pilots who easily fit into the right seat of any airlines, with minimal transitional training.
Talking about the establishment of OFAA, Dr. Anand Verghese says, "While operating our private airline, we realized that there was a severe dearth of pilots in India and we had to hire expats for the job, which was causing us a major loss of foreign exchange. Now, the flying school plays a major role in shaping up the career of the pilots and others." Today, OFAA has a legacy of over 24 years and 35,000 flying hours with more than 300 pilots trained under highly qualified Flying Instructors.