Higher Education Review ›› Magazine ›› December-2016 ›› Special issue
Placement Quality: Sreenidhi Institute of Science and Technology
Author : HER Team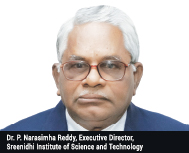 Established in 1997 by Sree Educational Society, Hyderabad, the philosophy of education at Sreenidhi Institute of Science and Technology is to provide wholesome education for the overall development of the budding engineers. The sponsoring society strongly believes that engineering education provides necessary competent manpower to the growing industry, which leads to economic development of India. "We believe that the buildings and equipment do not make an institution. The faculty is the heart of the institution and the students must carry home their delight after having attended their classes. In fact, this has resulted in SNIST becoming famous in the second year of its existence itself, even without any hoardings or advertisements," says Dr. P. Narasimha Reddy, Executive Director, SNSIT.

From an initial intake of 260 students in 1997, SNIST has grown into a major technical educational centre of excellence with an intake of 1560 for undergraduate programs and 198 for postgraduate programs. A good number of faculty members are guiding PhD scholars who belong to SNIST and other engineering colleges as well as also from industry. The institute encourages the faculty belonging to various departments to collaborate and do research work in multi-disciplinary areas. Based on the results they achieve and papers published, SNSIT is able to apply for research grants from various national level funding agencies. At present, the institute has many R&D grants received from ISRO, DBT, ICMR, AICTE and many more with which the faculty members are able to do advanced research leading to PhD for younger faculty and research scholars.

SNIST has collaborated with many universities and Institutes to exchange faculty members and students for pursuing undergraduate and postgraduate education as well as research. The Institute also has developed good relationship with professional organizations such as Institute of Indian Foundrymen, Institution of Engineers (India) and is associated in organizing a number of programs jointly. "In today's industrial environment, major multinational organizations in the private sector insist on the institutions to provide them industry-ready engineering graduates. They want our students to become billable right from day one," points out Dr. Reddy. Thus, to increase the acceptability of students, SNSIT has taken a number of initiatives in the form of collaborations, MoUs, industry training of Faculties and students research projects and many more.

"About 80 - 85 percent of our graduates receive campus placements on or off-campus. The lists of leading top notch organizations include Infosys, Cognizant, Wipro, Deloitte and many more," adds Dr. Reddy. The average salary offered to the students is Rs. 4 lakhs and the highest salary offered is Rs. 14.5 lakhs per annum. The high percentage of graduates selected in the campus placements is because of the care taken by the institution to make them employable in the present day situation, right from the first year. Thereby, SNIST continues to impart quality education in the ever changing industry requirements in the global scenario.

Dr. P. Narasimha Reddy, Executive Director
With 50 years of experience in teaching at UG & PG level, Dr. Reddy has published 10 papers in International and 25 papers in National Conferences and Journals. He says, "The most important part of learning is to assimilate the knowledge effectively and then to put it to right application."