Higher Education Review ›› Magazine ›› December-2016 ›› Special issue
Program Efficacy: Amrita University
Author : HER Team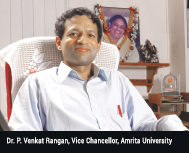 India needs to move to indigenous product development and will require excellent skill sets in the student's graduating from various streams of education. Amrita University is gearing up in a big way to foster innovation and entrepreneurship, recognizing the immense talent, technical knowledge, dedicated faculty, and visionary leadership with a focus on service to society. Amrita Vishwa Vidyapeetham (Amrita University) is a private university spread across India in the states of Kerala, Tamil Nadu, and Karnataka. Headquartered in Ettimadai, Amrita University offers bachelors, masters, and doctoral degree programs in computer science, engineering, business, biotechnology, nanotechnology, ayurveda, medicine, nursing, pharmacy, dentistry, social work, communication, education and basic sciences. Areas of specialization, such as medical informatics, computational engineering, cyber security, clinical research and oncology, have been designed in keeping with the National Development Plans of India. At Amrita, 18,000 students are enrolled in nearly 200+degree programs.

The School of Engineering was established in 1994 and offers branches of study in Aerospace, Chemical, Civil, Computer Science, Mechanical, Instrumentation, Electronics and Communication and Electrical and Electronics Engineering.In order to equip the present generation with better career opportunities, the university has established an exclusive department called Corporate & Industry Relations (CIR) to facilitate this function effectively. This initiative has resulted in top notch organizations like Google, Amazon, CISCO, IBM, SAP, NI etc. hiring Amrita students on a regular basis."Developing entrepreneurship skills amongst students has gained ground in recent times. Most futuristic models of education are focused towards creating graduates who would either want to become entrepreneur immediately after graduation or after few years of industry or corporate experience," says Dr. P. VenkatRangan, Vice Chancellor, Amrita University. Keeping this in mind, Amrita University has established Amrita Centre for Entrepreneurship (ACE) and a Technology Business Incubation Centre. TBI has incubated 50 start-ups, mentored 181 start-up ideas, and trained 7000 students so far.

The University has active tie-ups and collaborations with 100 universities in USA, Europe, Australia, Japan, Brazil and many more. Some of these are ranked among the best universities in the world, like Oxford, Harvard, Tokyo, Twente, Purdue, State University of New York (SUNY) at Buffalo, Yale, Princeton, Vrije. Columbia, Berkeley, University of California etc and the tie-ups are for faculty and student exchange, collaborative programs, research and cross-continental projects, centers of excellence and so on. These collaborations provide a wide spectrum of centers of excellence and research that foster research in frontier areas of science and technology such as nano, bio, wireless, cyber security, green materials, and energy.

One of the most influential aspects of life at Amrita University is the fact that students learn to think about giving back to the society through technology innovation. "Faculty and student's participation is increasing each year in taking research to common people," mentions Dr. Sasangan Ramanathan, Dean - Engineering, Amrita University.Through extensive work towards research and entrepreneurship, Amrita University is marching towards being a glorious institute of global standards.