Higher Education Review ›› Magazine ›› June-2016 issue
Roorkee Engineering and Management Technology Institute
Author : Dikila Bhutia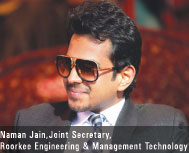 Empowering Through Education

Roorkee Engineering and Management Technology Institute prepares the students for a career of their choice.

Many students, from rural and backward areas do not pursue their higher education after completing their schooling, due to reasons such as, lack of awareness and preconceptions that are usually formed through hear says. Number one reason for the students discontinuing their education is cost of education, which has been frequently listed as one of the problems faced by the students from rural area where most of the families are dependent on agriculture for sustenance. "There are several scholarships for students who cannot afford the education and several tests that assure them a seat at the best institutions. But information such as these are news to the students and families both," says Naman Jain, Joint Secretary, Roorkee Engineering and Management Technology Institute (REM Tech). REM Tech located in Shamli has a unique cell called Social Welfare Cell through which the faculty and the students reach out to nearby areas and organize awareness camps.

The Social welfare cell covers more than 100 schools in the surrounding places, the group of students and faculty go from school to school and help the students learn about the various options they have for their future. The awareness camps are organized on a regular basis and the cell also provides open to all free computer and English language classes during the summer holidays to help the local students. The cell has collaboration with Magnum LLC, a Russian federation based NGO through which they provide scholarships to the meritorious students. Apart from the social involvement the institute is also known for their excellent placement records.

The training and placement cell of the institution is dedicated in creating and maintaining good relationship with the industry in order to prepare the students for their career and providing them with the desired jobs. REM Tech's placement drives this year witnessed a pool of companies visiting the campus one after another and picking their students one after another. Samsung, TCS and Bharat Machine are the major recruiters of the institution. "We focus on every single kid and their performance and based on that we provide them with the jobs that are suited for them," adds, Naman Jain. Unlike any other institution, in REMTech the students are assessed based in their performance in several tests conducted in order to understand their inclinations and interests. Having collaborations with DST and the District Science Council of Shamli, the institute is able to provide the students with several opportunities that help them hone their skills and become better.