Higher Education Review ›› Magazine ›› May-2018 ›› Special issue
The Transition of Indian Education System
Author : Prof. Suprabha Bakshi, Assistant Professor, Alliance Business School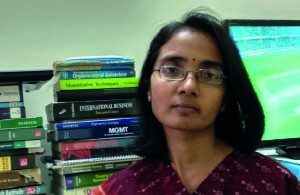 Prof. Suprabha Bakshi, Assistant Professor Alliance Business School
Education undoubtedly is the backbone of a nation's development. The education sector in India is characterized by various levels, domains, courses and so on. This complex structure coupled with huge population of our country, makes things even more difficult to design, implement and administer the educational policies at large to suit each and everyone. So, we have quality education restricted to a few IIT's and IIMs. The education sector in India is being plagued by many evils and it's a firm belief that this sector is often viewed only as a money making proposition minus the quality. However, the present educational witnessed currently in our country are indeed commendable. Thanks to the advent of technology in education, the internet penetration in our country and its usage among the educated and uneducated sections of our society. Having mentioned this, I can confidently start penning down my thoughts on a positive note.
The education sector in India has witnessed a refreshing transformation over the years. This is evident in almost every domain of the education sector - from primary to secondary and higher education, rural and urban educational sectors, public and private education sectors, technical and non-technical education sector and digital learning platforms. Our educational course curriculum is slowly and steadily moving away from the hard-core theory based curriculum to application based curriculum. Right from the school level, the syllabus is designed in such a way that both theory and applied aspects are emphasized. The questions provided at the end of every chapter across subjects have a good mix of basic elementary questions as well as application-oriented questions. The introduction of applied subjects in place of traditional subjects is a welcoming change.
Our education system has certainly adopted the best from the western world, but there are several loopholes to cover
Using the Technology for the Good Deeds
While the chalk and duster still hold good in rural classrooms, one cannot deny that we do have a significant chunk of classrooms, which now have good usage of technology - be it the usage of the simple power point presentation to webinars, YouTube, web based exercises, blended learning and many more. The internet penetration and its usage by the youth in our country have been the force behind this wonderful change. The present generation students are tech savvy and the "Digital India" concept indeed has been instrumental in this transformation. This has actually helped in one beautiful concept - access to study materials anytime and anywhere. We have e-books and the plethora of learning apps that have made learning fun, thereby making it more acceptable especially for students who detest the formal education setup in a classroom with textbooks. So, gamification or the play way method is often adopted by teachers to make learning fun. However, learning can never be fun and one can't attain knowledge without pain.
Our education system has certainly adopted the best from the western world, but there are several loopholes to cover. One is the use of technology. Students who depend on technology are unable to flare up their thought process when questioned about concepts. Since we are now witnessing a very disturbing trend as the dependence on technology is stopping the students from 'making decisions' which I strongly believe is the essence of a good education. This is substantiated by the fact that the present day students hardly refer to the library for a physical copy of the book, instead they browse the Google and get the answer from it. All thanks to technology again - cheap smart phones and easy access to internet. The concept of going to a library, searching for various books, reading a book there is an outdated practice. In a tech savvy world, we cannot do away with technology, but at the same time, we must ensure that the technology should not block our thought process.