Higher Education Review ›› Magazine ›› January-2018 issue
Usha Pravin Gandhi College of Management: The Pathfinder for Modern Media Mavericks
Author : HER Team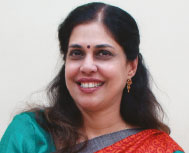 The Kapoor clan has been ruling Bollywood years now. To be precise, since 1910, they were able to bring paramount changes in the Film industry through their combined contribution in the areas of Direction, Scriptwriting, Acting and so on. On the Flipside, the "Film city of India" Mumbai has another Kapoor, who happens to mould young aspirants into the film industry. Dr. Anju Kapoor, one of the renowned career counsellors in Mumbai is also the Principal of Usha Pravin Gandhi College of Management (UPGCM).
Dr. Kapoor ensures that her students develop adequate skills in Film and Television industry by offering them innovative course named BA in Film, Television and New Media Production. "It is really fascinating to see young minds trying to foster changes in the film industry and we have created a platform for them to enter the industry through our UPG Aluminati-Association," claims Dr. Kapoor, who has been able to successfully maintain a record of their notable alumni and invite them as guest lecturers, Alumini-Association chairs the UPG. She adds, "With more than 15 years in providing media education, we were able to produce many notable alumni like Armaan Malik (playback singer), Palak Jain (Television actress), RJ Sangeeta Sivaram (Radio Mirchi), Sajna Sivan (Photographer) and so on."
UPGCM is one of the few institutes in Mumbai to keep a registered alumni base under Societies Registration Act, 1860
UPGCM is one of the few institutes in Mumbai to keep a registered alumni base under Societies Registration Act, 1860. So, why should a media programme have a strong alumni base? Dr. Kapoor says, "Our Alumnus is invited to our institute as guest lecturers who acquaint our students with the latest trend in the industry. The second important aspect is that they are the first point of contact for our students to enter the industry." But, to enter the industry, one must have a complete understanding of the growing trends in the contemporary world for which UPGCM has ensured that their students are exposed to the advanced techniques in cinematography, editing, script-writing and so on through their advanced infrastructural facilities.
The institute provides their students with the top-notch facilities, which are at par with the industry. UPGCM believes that the students must be getting hands-on experiences in the process of pre-production and post-production before entering into the industry. To keep their students at par with the industry-standards, the UPGCM has constructed one of the finest studios in Mumbai, which has a Croma studio, an Editing studio, and an Audio recording studio. "For our students to work in these studios, they need the guidance of the trainers.
So, we ensure that our trainers and faculty members have experience working with advanced equipment, and in-depth knowledge on working with advanced software and equipments,"explains Dr. Kapoor. The institute also offers add-on courses like Basics in Filmmaking, Digital Photography, Graphic Designing and Digital Media marketing so that it will help them get into the industry.