Higher Education Review ›› Magazine ›› November-2017 issue
Women's Education: Shrimathi Devkunvar Nanalal Bhatt Vaishnav College
Author : HER Team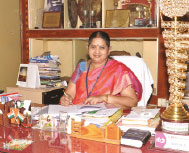 V. Varalakshmi, Principal Shrimathi Devkunvar Nanalal Bhatt Vaishnav College
Although, to an extent the rise of feminist slogans has improved the status of the women's condition worldwide, the access to education is still one of the most pressing demands. Women constitute almost half of the world's population and empowering the women can give birth to a nation, which is more knowledgeable and literate at the forefront.
The efforts and quality of the SDN Bhatt Vaishnav College can be well observed by the milestones it has managed to achieve till date.
Accordingly, with a motto of empowering the women and giving them feather to fly high, Late Shri Nanalal Bhatt laid the foundation of Shrimathi Devkunvar Nanalal Bhatt Vaishnav College for Women in the name of his wife, Smt. Devkunvar. "The Founder Chairman of the institution used to accord a significant importance to women's education. As he always believed that women can bring social stability by finding solutions to different problems prevailing in the community and the society," says Dr. V. Varalakshmi, Principal, SDNB Vaishnav College.
Shrimathi Devkunvar Nanalal Bhatt Vaishnav College for Women was started in 1968 with the generous donation of 10 acres of land by our Late Founder Chairman Shri Nanalal Bhatt and Rs. 6 lakhs donated by Cork Industries Charities Trust. Identifying the need of introducing management education for the young women, the institution now offers 10 UG Courses & 6 Research Departments in the Aided structure, 12 UG Courses, 11 PG Courses & 4 M.Phil courses in the Self financed structure. BBA (Business Process Services) and B. Com courses offered in a number of specializations attract a number of students.
Promoting Unbeaten Collaborations
The most recent collaboration of the institution with Tata Consultancy Services (TCS) has become the hallmark of the SDN Bhatt Vaishnav College. "The three-year full time degree programme in Business Process Services (BPS) we are providing to the students is a one of its kind course, which has been possible because of this alliance with TCS Academic Interface Programme," shares Dr. Varalakshmi. This MoU has been signed on 26 April 2017, rendering the students with an opportunity to be hired by TCS on successful completion of the degree.