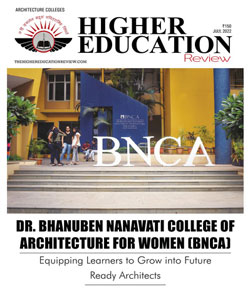 Top 10 Architecture Colleges - 2022
Indian civilization has a remarkable history attached to its core. The inheritance of heritage has imprinted Indian soil in diverse ways as a result of its deep foundation in its history, culture, and religion. This has undoubtedly given rise to fascinating architecture, Indian architecture that has evolved through centuries depending upon socio-economic, geographical, and ruling conditions. Every nook and corner of the country has a piece of heritage architecture that tells tales of historical stories within their soul. However, the architectural legacy of monuments ranging from the Hindu temples, Indo-Islamic history to the British colonial period has left profound architectural heritage wealth to cherish and learn for a lifetime. In the material form of buildings, architectural works are often perceived as cultural symbols and as works of art.

Since the time when human beings started setting down in clusters, they started planning how to make living more comfortable. This started off with planning for better living quarters in the Indus Valley Civilization and went on to form the basis of planning and architecture in the country. As is evident from history itself, Indians have always pioneered in architecture and planning. From the intricate designing in the caves of Bhimbetka to the high rise skyscrapers that adorn the skyline of our cities. Architecture is not only concerned with buildings and construction details, but also with how people perceive and understand space.

Architecture is both the process and the product of planning, designing, and constructing buildings or other structures. Indian architecture has always been the envy of the world. In fact post globalization, Indian architects have been high on demand even for multinational companies and international firms. The trend is so strong that we often see Indian architecture freshers being paid in terms of crores.

To keep up with this trend and to ensure that Indian architecture remains at the top, a number of architectural colleges have mushroomed in the country to gain a deeper understanding of built and occupied space and develop an individual approach to spatial design Higher Education Review, in this issue presents a list of 'Top 10 Architecture Colleges - 2022' who have been offering best-in-class education in the country. The following list has been prepared after being closely scrutinized by a distinguished panel of judges including CXOs, analysts and our editorial board.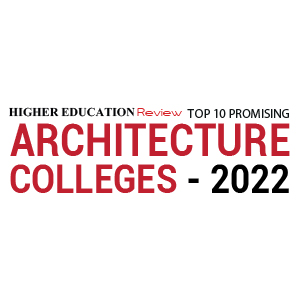 Nominate College/Institute
×
Nominate College/Institute
Our subscribers play a decisive role in finalization of our annual list of "Top 10 Architecture Colleges - 2022" by nominating those which have served them with excellence and are praiseworthy. If you feel there is a College/Institute that deserves to be on our annual list, do write to us about them mentioning their value proposition.
Data not inserted