Top 10 International Universities and Colleges for Indian Students - 2021
With a zeal to explore the idiosyncratic features of the world along with the benefit of gaining premium education from top-notch universities of the world, studying overseas is the dream of many students and families in India. Owing to the rising income levels of Indian house hold spost-liberalization, more students have been able to realize their dreams of going abroad, which was earlier afforded only by rich families. Even the various policies of central and state governments along with the easy availability of education loans have paved the way for Indian students to study across the international borders.

According to one of the recent reports issued on behalf of the Union Ministry of External Affairs, approximately 5.53 lakh Indian students are studying across more than 86 different countries. While the US, Canada, UK and Australia have emerged as the most preferred study destinations amongst these countries with almost two-thirds of Indian students studying there, most of the students prefer the UK to be their dream destination of acquiring higher education. The US and Australia are majorly preferred by the Indian students for better healthcare facilities; the factor whose importance cannot be debated while surviving in this post-pandemic world. In current years, countries like Canada, Germany and Ireland too are surfacing as major educational hubs for Indian students by the virtue of their commending immigration policies, permanent residency, lucrative work policies and scholarships. Even amidst political differences, most Indian students, especially across the healthcare sector, have chosen China as one of the most opted foreign countries for obtaining an MBBS degree.

Although the spread of COVID infection has been able to put a mild break across the expeditions of Indian students flying abroad for education, as the world resumed its earlier pace, so did the students. Remaining unaffected by the nuances of the physical world, education has always been one of the most prioritized aspects of human civilization with the sole purpose of enlightening individuals with exquisite knowledge and skills. To keep this motto alive and encourage the educational enthusiasts to land up with their dream educational institution, we at the Higher Education Review Magazine have come up with the listing of `Top 10 International Universities and Colleges for Indian Students ­ 2021'. Carefully curated by our editorial team along with the help of few industry stalwarts, we have come up with some of the most favored international educational institutions for Indian Students owing to their unparalleled educational facilities. We believe that this survey and listing will be beneficial for students who aspire to get enrolled in one of the top-notch global institutions and shift abroad for their education.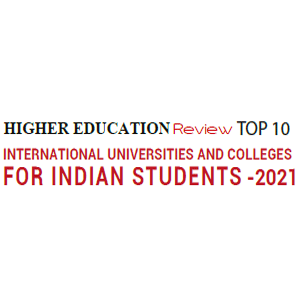 Nominate College/Institute
×
Nominate College/Institute
Our subscribers play a decisive role in finalization of our annual list of "Top 10 International Universities and Colleges for Indian Students - 2021" by nominating those which have served them with excellence and are praiseworthy. If you feel there is a College/Institute that deserves to be on our annual list, do write to us about them mentioning their value proposition.
Data not inserted