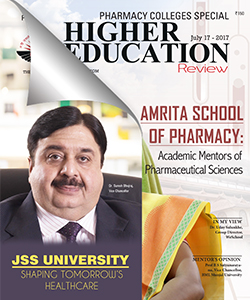 Top 10 Promising Pharmacy Colleges in India 2017
The pharmacy profession entered in India almost simultaneously with the western countries, but the growth remained comparatively slow. During the past decade, however, the pharmacy education in the country expanded significantly in terms of the number of institutions offering these programs at various levels. Now, a large number of institutions in India are providing various kinds of educational programs in pharmacy such as D. Pharm, B. Pharm, M. Pharm, MS (Pharm), Pharm D and PhD.

Despite the increase in number of institutions that provide pharmacy education, India is suffering from serious backdrops and flaws in its training grounds. Experts in this field claim that our have not given enough emphasis on strengthening the components of Community Pharmacy, Hospital and Clinical pharmacy, while designing curriculum at diploma and degree levels of teaching. Indeed, there is an enormous gap between education and practice of pharmacy in India. Some of the academic institutions providing pharmacy education do not have any practice environment and follow the outdated curriculum, which is of no use in this modern era. Further, the educational environment, faculty strength and facilities are not same in all of the institutions. 

To aid enthusiasts, students and aspiring candidates alike, who are looking for a good platform to acquire the skills to enter and survive in the pharmacy industry, we have come up with 'Top 10 Promising Pharmacy Colleges in India 2017' that can rid them of their woes. This issue of The Higher Education Review Magazine focuses on foremost educational Institutes across the country that are providing quality education in Pharmacy under the banner 'Top 10 Promising Pharmacy Colleges in India 2017'. The institutes have been selected on the basis of how well they prepare the students for the industry, educational collaborations, placements, research and the quality of performance they deliver, all of which implies their performance to bring in quality to the education system.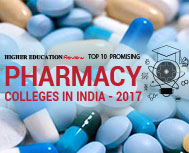 Nominate College/Institute
×
Nominate College/Institute
Our subscribers play a decisive role in finalization of our annual list of "Top 10 Promising Pharmacy Colleges in India 2017" by nominating those which have served them with excellence and are praiseworthy. If you feel there is a College/Institute that deserves to be on our annual list, do write to us about them mentioning their value proposition.
Data not inserted