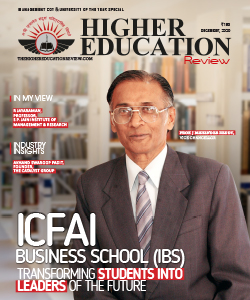 University of the Year - 2020
The Indian higher education stratum is one of the most complex and diverse in the entire world and in any given year, more and more educational institutions are being established in India. There are 875 Universities in India and these are spread across the country to offer quality education to its students. With that said, not many Indian universities has been recognized globally as an elite education destination when compared to other western universities. As time goes by, some Indian universities have been able to improve the quality of education provided by them and make a name for themselves at the global stage. So, by offering value for money education and a unique learning experience that will help their students to be prepared for the road ahead, Indian universities have the perfect opportunity to make their name heard across the globe. And this is what many universities across the country has been doing for the past decade or so and by combining tested and proven teaching methodologies with new and innovative teaching pedagogies, Indian universities have been ensuring that their students are perfectly poised in the job market and they are capable enough to make a name for themselves in their respective industries. Even though there are a number of top universities across the country to choose from, it is important that you choose the best of the bunch to get the best possible results.

In order to help the Indian students who are looking for premier Indian universities, we at Higher Education Review magazine are trying to simplify your confusion of selecting the best universities in India. Our expert panel of researchers has looked into the situation and articulated a list under the name 'University of the Year - 2020' which is based on the institutes' qualities, expertise, ranks, facilities and much more. Reviewed and scrutinized by the intellectual individuals of this specific field, the educational institutes mentioned in this list deliver exceptional education along with outstanding infrastructure, top-notch mentoring facilities, and placement opportunities. We hope that this above-mentioned list will help the interested Indian students to choose the bestuniversities in the country.

Nominate College/Institute
×
Nominate College/Institute
Our subscribers play a decisive role in finalization of our annual list of "University of the Year - 2020" by nominating those which have served them with excellence and are praiseworthy. If you feel there is a College/Institute that deserves to be on our annual list, do write to us about them mentioning their value proposition.
Data not inserted