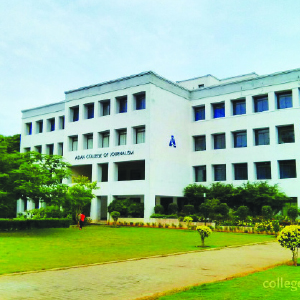 in Bangalore as the Asian College of Journalism,
Bangalore. It was founded in 1994 by the Indian
Express group, offering only a print course. In 2000, it was
taken over by a not-for-profit trust founded by journalist and
media entrepreneur, Sashi Kumar and was shifted to Chennai,
in the same location
as the old Hindu office on Wallajah
Road, and renamed. It now comes under the aegis of the Media Development Foundation,
headed by Chairman Sashi Kumar. For the first two years in Chennai it was headed by
K
Thomas Oommen.
ACJ offers a one-year postgraduate diploma with
specialization in four streams under its 10-month
programme. The postgraduate college is designed to provide
students with world-class journalism education adapted to
the specific needs of India and other developing countries in
Asia. It seeks to prepare its graduates to achieve the highest